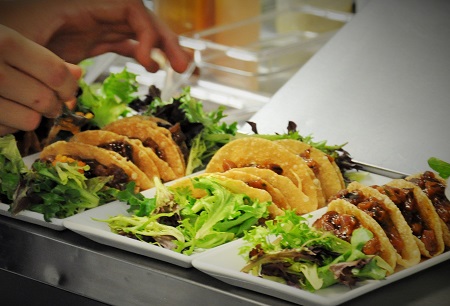 I am in love with every. single. morsel I ate at Ella's Fine Food & Drink, located in Westerly, RI. I have driven by the restaurant a million times. I heard great things about their food. Every one in the World knows of Taylor Swift taking cooking lessons with Chef Jeanie Roland. But had I eaten there yet? Nope.
Well that all changed when I, along with some other media (food and travel blogger Ron from Ron's Food Trips , Wendy and Greg from Connecticut Lifestyles, and Bonnie from homeplaceblog) dined there in late October, and since then, I have been back three times.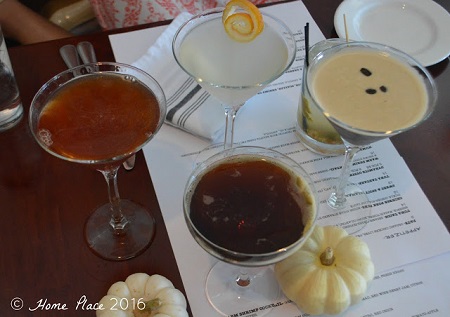 We began our evening with a fine selection of cocktails to wet our whistles as we struggled to decide which appetizers to select. In the end we selected just about every one and passed them around the table. The appetizer I ordered was the wild mushroom crostini described as a warm crostini with ricotta-parm-pec cheeses, sautéed wild mushrooms, saba & fleur de sel drizzle, white truffle oil, arugula.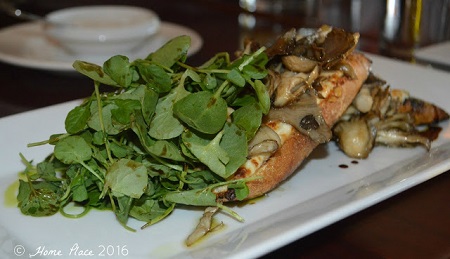 My friend ordered the Sweet & spicy calamari – flash fried squid, tossed with cilantro-green onion, crushed peanuts. It was PERFECT. Photo courtesy of Home Place Blog. Photo of Calamari and Dessert courtesy of Ron's Food Trips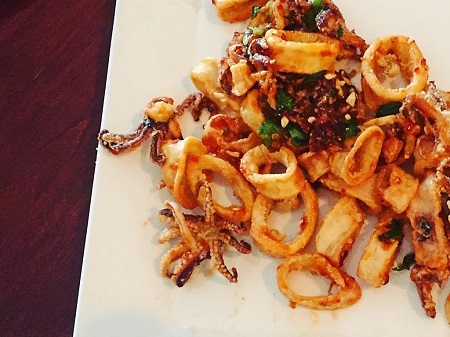 We had the honor of Chef Roland coming to spend time with us at our table. She shared her absolute passion for using the freshest local ingredients, and crafting the daily and seasonal America/French inspired menu around these ingredients. We also talked about her winning 'Beat Bobby Flay', her culinary training, and her restaurant in Florida, named The Perfect Caper. Photo courtesy of CT Lifestyles.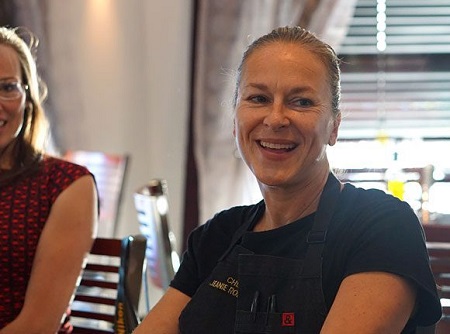 After our chat, I was served the lovely Parisian salad followed by….
The Miso Salmon (pan seared miso-infused salmon, toasted coconut dusted forbidden black rice, chili bok choy, ginger sesame butter) and Pomme Frites.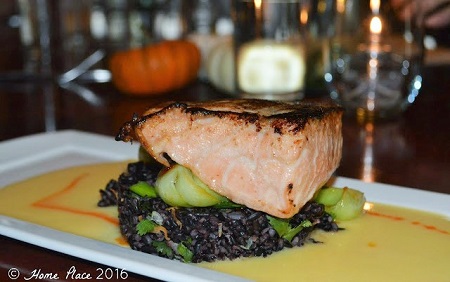 Finally, even though I felt like I would explode, I KNEW I had to have the Crème Brulee. Trust me when I say the experience is worth every dime, but if you are pinching your pennies, go there Tuesday-Friday, from 4-6 p.m., when the entire menu is HALF PRICE!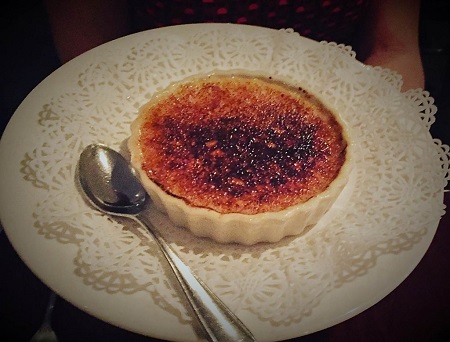 Ella's also hosts culinary events and cooking classes so sign up for ones that interest you at http://www.ellasfinefoodanddrink.com/.
Disclosure: This was a hosted event. All opinions are my own.