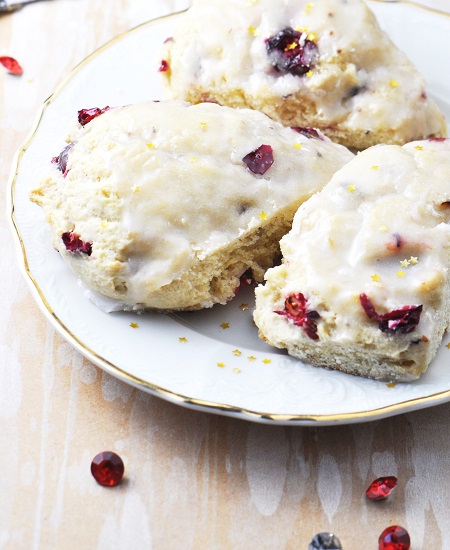 Happy almost New Year's! I know we will have a solid 24 hours left in 2016, but I felt I had to share this recipe with you now so you can start baking stat.
If you don't want to use Champagne (call it Sparkling Wine so the French don't chasse you down), you can use sparkling cider.
Ingredients (Yield 8 scones)
1 1/2 cups all-purpose flour
4 tablespoons sugar
1 1/2 teaspoons baking powder
1/4 teaspoon salt
5 tablespoons cold unsalted butter, cut into small pieces
½ cup cranberries
1/3 cup low-fat buttermilk, plus 1 to 2 tablespoons more if necessary
~¼ cup champagne or sparkling wine
1/2 cup confectioners' sugar, plus 2 tablespoons
1-2 tablespoons champagne or sparkling wine
Directions:
1. Preheat oven to 400 degrees Fahrenheit.
2. In the bowl of an electric mixer fitted with a paddle attachment, mix together the flour, sugar, baking powder, and salt.
3. Add the butter and cranberries into the flour mixture, and mix on low until just blended. The dough will be lumpy.
4. With the mixer on low, slowly add the buttermilk and most of the champagne, and stir until just combined; If the mixture looks super dry, add more of the champagne. Do not over mix.
5. Prepare a baking sheet (lined with parchment or waxed paper), or use a nonstick scone pan. Place the dough on a lightly floured surface and shape into an 8-inch round. Cut circle into 8 wedges or place equal amounts into the scone pan. Transfer to baking sheet, placing the scones a half-inch apart. Bake until golden, 18 to 20 minutes.
6. Once the scones are cool, combine the confectioner's sugar and champagne with a fork. Drizzle over the scones. Double the icing recipe if you like plenty of icing on your scones.