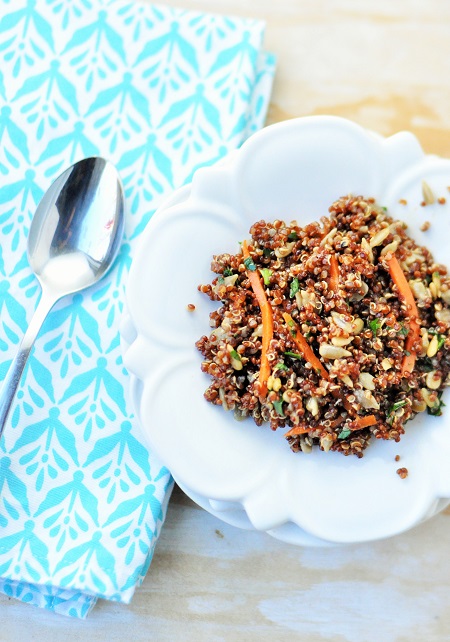 You already know that salads can be good for you.
You already know that you should eat them more often.
You already know it would make your doctor, and your Mom happy.
Did you know I made you an awesome salad that contains no lettuce? I did, but you should already know that.
Garlicky Turmeric Red Quinoa Salad Recipe (Yield = ~3.5 cups)
3 cups cooked red quinoa (1 cup uncooked)
1 clove garlic, minced
½ carrot, sliced or julienne
¼ cup chopped fresh parsley
¼ cup sunflower seeds
½ teaspoon turmeric
½ teaspoon lemon juice
½ teaspoon low sodium gluten-free soy sauce
½ olive oil
Directions:
1. Cook one cup the red quinoa per manufacturer's instructions.
2. Prepare, and combine in a bowl, the garlic, carrot, and parsley. Add in the sunflower seeds, turmeric, lemon juice, soy sauce, olive oil, and mix well.
3. Once the quinoa has cooked, combine 3 cups in with the other ingredients. eat soon temperature or after refrigeration.