Those of you folk who hang out here regularly know that we plant a garden each spring, and that it brings us so much joy.
Last weekend I decided, we are eating from the garden tonight, so we went a 'shopping' in the garden. We choose dwarf eggplants, purple basil, and cherry tomatoes as they are practically jumping of the vines.
For the pesto, we used mostly purple basil, but when I felt I needed a bit more basil flavor, I decided to use a few green basil leaves from the garden. The fresh Parmesan we used was obtained Westerly Packing.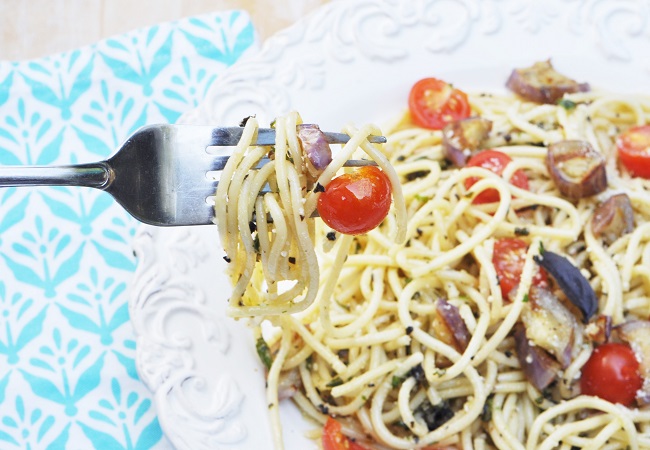 Perfect Basil Pesto Pasta with Grilled Eggplant and Cherry Tomatoes (Yield = 4)
Ingredients:
1 lb. box of whole grain or whole wheat spaghetti
4-5 dwarf eggplants, sliced, grilled, and then cut into bite-sized pieces
1/4 cup shelled, sliced almonds (or use whole)
2 Tablespoons grated Parmesan cheese
2 cloves garlic, roughly chopped
3/4 cup fresh purple or green basil, tightly packed
1 cup extra-virgin olive oil (use more for a less dense
1-2 handfuls of cherry tomato, sliced in half
Salt & ground black pepper, to taste
Directions:
1. Heat an indoor or outdoor grill to medium, and prepare the eggplant by slicing into 1/2 thick pieces. Grill the eggplant about 1-2 minutes per side and set aside to cool.
2. Bring a large pot of water to a boil and cook spaghetti according to package directions.
3. Make the pesto by combining the almonds, Parmesan, garlic and basil into a mini-food processor. Drizzle in the oil while pulsing ingredients. Season with salt and pepper, and set aside.
3. Drain the spaghetti, place in a large bowl, mix in pesto and then top with tomatoes. If you wish, you can always add more oil in but be sure to toss well.