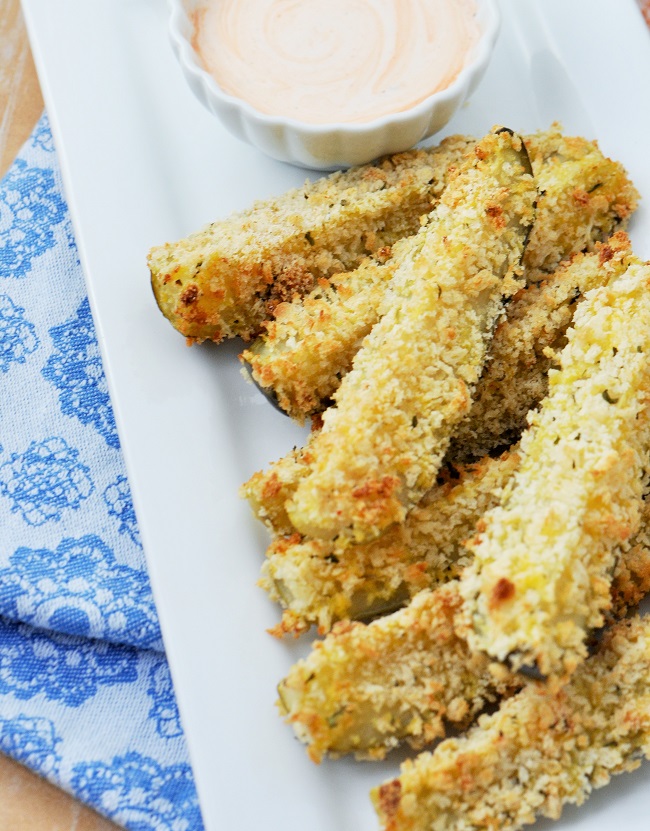 A few years ago, I was first exposed to fried pickles. Since then, three out of the four members of this family have ordered fried pickles whenever we see them on a menu.
Since I had a craving the other day, I decided to finally make my own version. I choose to use pickles spears rather than the traditional chip style. I also decided to spice things up by adding Sriracha sauce to ranch dressing. If you want the traditional fried pickle chips style, just cut down the baking time.
Spicy Baked 'Fried' Pickles with Spicy Ranch Dip
Ingredients:
1 jar of pickle spears (~12 pickles spears)
2 eggs, beaten
4 dashes of Cayenne pepper, divided
2 cups Italian (or plain) Panko bread Crumbs
1/2 cup ranch dressing
A few dashes of Sriracha hot sauce
Directions:
1. Preheat oven at 375 degrees Fahrenheit if using a convection oven or 400 degrees Fahrenheit if using a conventional oven.
2. Drain pickles and place on a clean dish cloth or paper towels and tap off excess juice on all side of the pickle spears. Set aside.
3. Beat eggs in a bowl with 2 dashes of cayenne pepper. Place the bread crumbs on a plate, add 2 dashes of cayenne pepper and mix well.
4. Place a cooling rack into a baking sheet.
5. Perform in the following order: place a pickle into the egg mixture, let excess drip off, roll around in the bread crumbs, place onto cooling rack.
6. Bake for 20 minutes, or until the bread crumb coating is browned. Use dip sauce if you wish, and simply adjust spiciness by adding few,
or as many dashes of Sriracha.