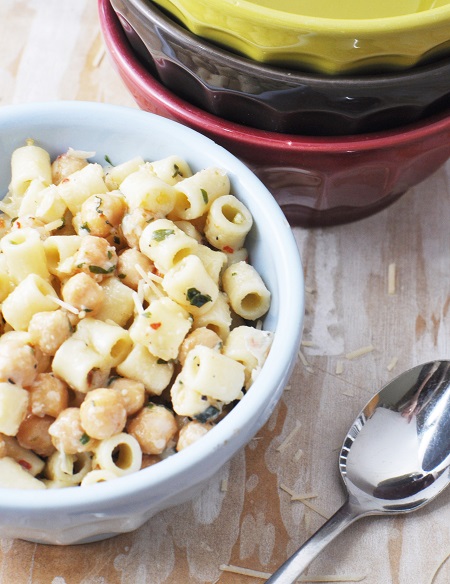 Pasta e Ceci aka Pasta with Chickpeas is more than an Italian classic. I have enjoyed it at Portuguese family events as well as at picnics and cookouts.
Since pasta is a staple in many homes, I want to share this very quick and easy recipe with you. You can easily toss some chicken into the dish for a more robust meal with more protein to boot.
This recipe is very customizable too: I have made this recipe with whole grain, and chickpea pasta, so try different pastas, and find what you like best. If you like spicy, add more pepper flakes, If you like extra cheese, go for it. If you prefer more olive oil, drizzle it on. See, I can play nice.
Zesty Pasta e Ceci Recipe (Pasta with Chickpeas) Yield = 4
Ingredients:
4 cups cooked pasta shape of our choice, traditionally a small shape
2 cups rinsed chickpeas (garbanzo beans)
2 – 3 cloves of garlic
1 teaspoon red pepper flakes
A handful of minced fresh parsley
2 Tablespoons grated Parmesan or Romano cheese
2 – 3 Tablespoons extra virgin olive oil
Directions:
1. Cook pasta per manufacturer's instruction.
2. Meanwhile prepare all other ingredients, and toss together in a large bowl.
3.  Drain pasta, add 4 cups of pasta to the bowl containing other ingredients, toss well, and serve.