This past Sunday, I attended at luncheon in NYC hosted by SOYJOY titled 'A Discussion on Healthy Eating'.  The panel included Registered Dietitian Cynthia Sass, co-author of The Flat Belly Diet, Dr. and Chef Jackie Newgent, author of The Big Green Cookbook and Celebrity Trainer Harley Pasternack (who attended via Skype) and author of 5 Factor World Diet.  I soaked up some great information that I want to share with you.
Strategic Snacking Tips from Cynthia Sass
*We are reminded that snacking is essential to keeping our bodies going and that small frequent meals help keep cravings and overeating at bay.
*Never let more than 5 hours go between snacks (not a problem!)
*Choose whole, fresh and minimally processed foods like whole soy (the SOYJOY bars are a great and convenient source)
*Combine good carbs. with protein and healthy fats
*Finally, avoid the 'h' word, meaning do your best not to eat products with hydrogenated oils/fats
Healthful Snacking Tips by Jackie Newgent
#1: Favor the sweetness of fruit
#2: Turn up the volume with seasonal veggies
#3: befriend herbs & spices
#4: Pump up the 'pleasureable' pain (add heat)
#5: Drink & Eat Tea
#6: Add a healthful dose of whimsy (have fun)
#7: Play Favorites (include some of your favorite foods including pizza, but make it small)
#8: Do dips differently (use greek yogurt instead of sour cream, make soybean hummus)
#9: Go a little nutty (nuts add protein and fiber)
#10: Get Real = minimally processed
Tips from Harley Pasternack's '5 Factor World Diet' Book
*Eat a lot of Soy & Fish like many Asian Countries
*Stop eating when 75% full
*Walk after you eat
*Increase consumption of legumes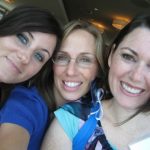 Amy from Mom Spark, Myself and Jyl from Mom It Forward.
Disclosure: SOYJOY provided food, book and soyjoy bars.