Back in July, I attended a luncheon with Dr. Barry Sears to launch his new book titled TOXIC FAT: When Good Fat Turns Bad. The premise is that the way we eat today and the way our food is processed is what is making us all fat. He states that the hormones that are generated by the food we eat, is adversely interacting with our genes and that we need to eat the right combination of real food at the right time to control inflammation.
Do you recall Grandma telling you to eat all of your vegetables, eat slower, eat small meals? Yup.  Do you remember grandma feeding you a bunch of processed junk that is the majority of Americans diets today? Nope. In his book, Dr. Sears talks about all of the Omega 6 fatty acids that our bodies are flooded with these days (an example: oils many of us have in our homes including corn, sunflower and other vegetable oils containing polyunsaturated fats) and how adversely they are affecting us.
So, what are we going to do? There was one statement that Dr. Sears made a number of times that stuck out to me : '"It's easier to change religion that to change diet".  And we know that many of us do not look forward to change. Well, to address that, Dr. Sears is launching a new line of foods that he hopes will be used to help some people to lose weight AND to also change the way many eat. The foods he is offering are a line of chemically engineered foods that he says can help make the switch to better foods easier by impersonating some of our favorites however, he swaps the refined carbohydrates with proteins high in Omega-3.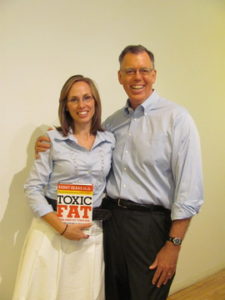 Pictured above top photo: Heather of TheWellMom, Dawn of Party Blueprints, Alma from Take Back the Kitchen, Beth (the organizer of the event) from Role Mommy, myself, Kim from Mom in the City, Vera of Lady and the Blog, and Dana of FitCeleb.com    
**Since the luncheon, we were sent some of the Zone 1-2-3 Diet to try and I will report on my thoughts on the line of food in a later post**
Disclosure: I was provided transportation to the event, food and a copy of the book.