One of the major highlights of my trip to Blogher this year was attending The Nate Berkus Party. In fact, I yelped when I received the invitation. One of the things I  have always admired about Nate Berkus is his sincerity. He is a sensitive, caring person and he carries a genuine aura of kindness with him.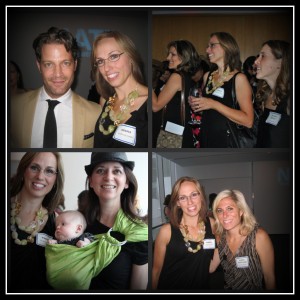 In case you did not know, Nate Berkus has a new talk show and it premieres tomorrow: Yes, it will include real life design, celebrities (that we are told they will appear in creative ways) and they will have 'newsmakers' including Elizabeth Edwards in a piece about reclaiming your life.  But what got me about his description was this: It will have stories about real people.  The website will also feature projects and blogs!
Please watch the video to learn about the show (excuse the shakiness as between my excitement and coffee overload, I guess my arm would not stay still)

Photo 1: Meredith of Hoo-Dee-Hoo, Myself, Ciaran of Momfluential.net, Rachel of Todaysmama.com, Danielle of Extraordmommy.com, Duong Sheahan of Live Healthier and Happier and Jyl of MomItForward.com.  
Photo 2  Clockwise: Myself and Nate Berkus: Christine of Young Mommy, Myself and Colleen of Classy Mommy: Myself and Audrey of MomGenerations: Myself and Gabrielle of Design Mom.