It is official: I think I have a unique title of Bowling-Soccer Mom. See, on Saturday mornings one child has bowling league while the other has soccer league.  Since they are at the same time, my husband and I take turns with who takes who to what and where.
One the way to soccer, I began to feel a bit sick to my stomach when I realized that I had fed everyone this morning but myself so the dunkin donuts drive-thru came to the rescue. I ordered an iced coffee and the egg white flatbread sandwich.  Yum.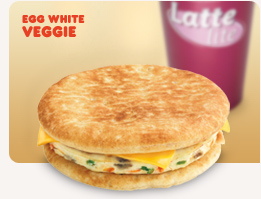 After soccer we snacked on an apple and the younger had a Horizon organic vanilla milk and before you know it, I needed a rest room so what better place to stop than TJ. Maxx (LOVE!). I love perusing their Housewares section and honestly, I have found amazing food items. My latest score was a large bottle of grapeseed oil for a steal.
At any rate, remember that I posted about these? Well, imagine the joy when I found some at half the retail price. I bought the Party Time pack as it is perfect for any last minute cupcake needing occasion.