If you're new here, you may want to subscribe to my tasty updates.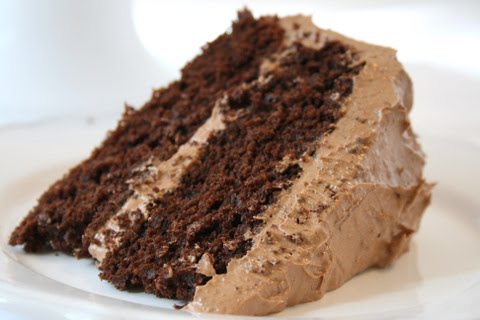 Is there anything else that needs to be said besides Food Bloggers Celebrate International Chocolate Day?
Enjoy this eye candy and tell me: What is the favorite chocolate recipe in your family (feel free to link in comment)?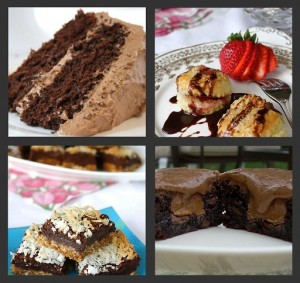 Clockwise starting on the right:
Brie Cheese & Strawberry "Ravioli" w/Chocolate Sauce by Cooking Canuck
Mocha Brownie Cups by Little Bitty Bakes
Coconut Chocolate Fudge Bars by Cookin Canuck
Chocolate Cake to Celebrate by Delicously Organic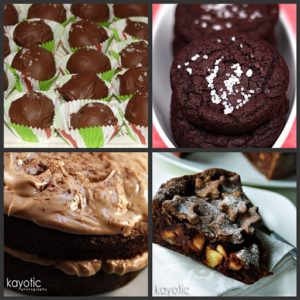 Clockwise starting on the right:
Chocolate Caramel Cookies with Sea Salt by Two Peas and Their Pod
Chocolate Apple Pie by Kayotic Kitchen
Chocolate Carrot Cake by Kayotic Kitchen
Holday Hazelnut Truffles by Food Finery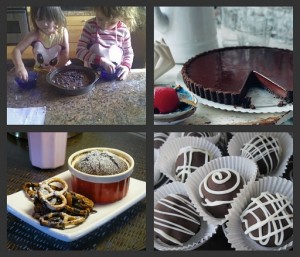 Clockwise starting on the right:
Chocolate Glazed Chocolate Tart by Cocina Diary
Brownie Truffles by Lilli Bakes
Dark Chocolate Souffle & Chocolate Drizzled Pretzels
Vegan Double Chocolate Chai Cake by the Gonzo Mama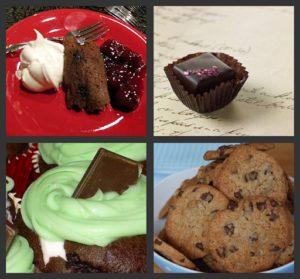 Clockwise starting on the right:
Delectable Gems by Comet Photo
Chocolate Chip Cookies by Food Bridge
Gluten/Dairy Free Chocolate Cupcakes by Real Sustenance
Chocolate Tamales by Fete and Feast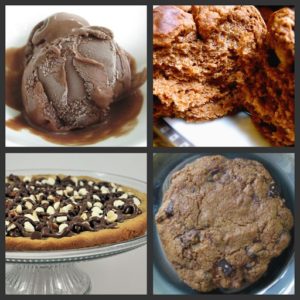 Clockwise starting on the right:
Hint O'Chocolate Banana Muffins by The Daily Diet Tribe
Really the Best Cookies by Hannah's Harvest
Triple Chocolate Hazelnut Cookie Pizza by Oh My Sugar High
Chocolate Gelato by Sensitive Pantry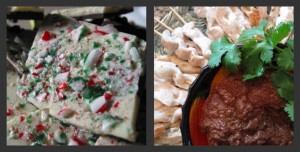 Clockwise starting on the right:
Peppermint Bark by The Backseat Gourmet
Chili Chocolate Sauce by The Backseat Gourmet
Fruffles by Gluten Free GiGi
Last but not least: Chocolate Biscotti Recipe by Home Ec 101
*Top Photo of Chocolate Cake to Celebrate by Deliciously Organic – printed with permission*