Being October 1st, means the beginning of Breast Cancer Awareness Month and as with many of you, Cancer has creeped its' way into my life. In order to bring awareness and raise money, I thought I would share some ways you can help make a difference:
Ann Taylor Loft has a limited edition of jewelry with a $5 donation being made to The Breast Cancer Research Foundation for each purchase. That adds up quickly and who needs an excuse to buy jewelry right?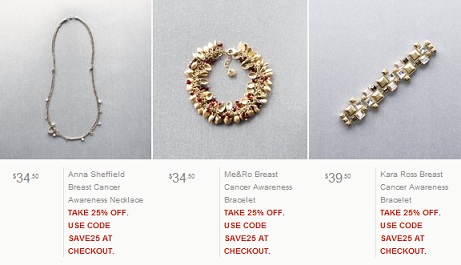 White House Black Market is offering 'The Give Hope Collection' which benefits Living Beyond Breast Cancer. Start Shopping!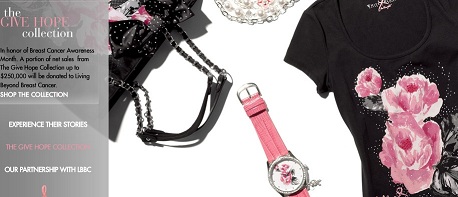 And close to my heart is an initiative by Rachel of A Southern Fairytale & Tricia of Once a Month Mom called Saving Second Base: A Breast Cancer eCookbook Project.
They are looking for recipes and stories/memories accompanying those recipes that are special to, from, or remind you of someone whom you have known or loved that have survived or passed away from breast cancer. We will be using these recipes/posts throughout the month of October on A Southern Fairytale and Once A Month Mom.
In addition, at the conclusion of the month they will take each of these recipes and create a commemorative ecookbook that you can then purchase for yourself or as a gift to the loved one and/or their family. All PROFITS from the sale of these ecookbooks will go to the Susan G Koman Foundation.
Read more about Saving Second Base