Were Sunday Suppers a part of your childhood or are they a part of your life now? I remember Sunday Supper being a time when we had dinner with our family and often times, friends and even neighbors. The kids sat at the table and ate the same meal as the grown-ups and then gave each other looks wondering when we could be excused and could go run around. 
It seems that many of us forget the importance of the family supper but I hope we can all rekindle the tradition.  In hopes of celebrating the Sunday Supper, we had a gathering last Sunday, along with many in the food blogging community, utilizing recipes from Pam Anderson's new cookbook ' One-Dish Dinners.
The lovely ladies from Three Many Cooks asked us to use the menus and recipes during a Sunday Supper.  In One-Dish Dinners, there are one-dish recipes that you can serve as a complete meal or as part of a menu. Each main dish is part of a menu including an appetizer, salad, dessert and even wine pairing. Plus, for those who need an even simpler solution, there are Instant Alternatives. 
Although you can easily mix and match menu items, I decided to go with the entire Tandoori Platter (page 245) which also includes a 6-layer dip, raita and strawberry milkshakes for a dessert.  I started with the Tadoori Platter however, due to the weather, I used an indoor grill/panini press instead of an outdoor grill. I found the platter to be so easy as I marinated the chicken and vegetables for about 30 minutes as I attended to some last minute details. 
Once the company was busy enjoying the appetizer and conversation, I put the chicken and vegetables on the grill and placed the raita on the table (prepared the night before). I then served the platter and an hour or so after dinner, I made the milkshakes. For the milkshakes, use whatever fruit you wish or even unsweetened fruit as I did.
We all had a great time and plan will continue this Sunday Supper tradition. Now go grab Pam's new book and let me know some of your favorite recipes and about your Sunday Suppers.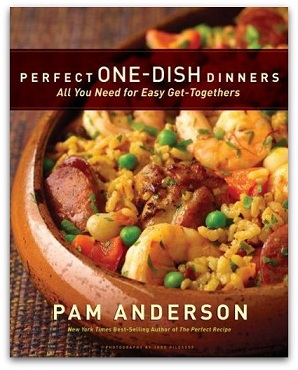 Indian 6-Layer Dip (Serves up to 12)
1 cup sour cream, low fat or regular
1 tablespoon curry powder
1 cup grated sharp cheddar cheese
1 cup Greek yogurt
1/2 cup Major Grey chutney
1/2 cup sweetened flaked coconut
1/2 cup roasted salted peanuts
1/2 cup sliced scallions
1 bag pita chips, rice crackers, pappadams
Mix sour cream and curry; spread over a shallow pan such as a small pie plate or gratin pan. Sprinkle with cheese. Mix yogurt and chutney; spread over cheese. Sprinkle with coconut and scallions. Can be covered and refrigerated overnight. When ready to serve, sprinkle with peanuts. Serve with chip or cracker of choice.
In place of salad, make a little raita, a cool cucumber condiment for the spicy grilled chicken and vegetables: mix 1 large English cucumber, halved, coarsely grated, and squeezed dry, 2 cups non-fat yogurt, 1/4 cup chopped fresh mint, 1 teaspoon ground cumin, 1/4 teaspoon cayenne pepper, and a generous sprinkling of salt.
Here are the other Food Bloggers that joined in the Sunday Supper:
DadCooksDinner.com
RecipeGirl.com
ArtofGlutenFreeBaking.com
KitchenGadgetGirl.com
MyBakingAddiction.com
Wenderly.com
BluebonnetsandBrownies.com
TheSensitivePantry.com
WhatsCookingBlog.com
TwoPeasandTheirPod.com
WhatsGabyCooking.com
Bellalimento.com
SmithBites.com
MyFavoriteEverything.com
FoodForMyFamily.com
Ivoryhut.com
DineAndDish.net
GlutenFreeGirl
Picky-Palate.com
TickledRed
SheWearsManyHats.com
WhatWereEating.com
ThisWeekForDinner.com
SugarCrafter.net
GoodLifeEats.com
How often do you gather family and friends for dinner?
*photo by Amy McCoy