Last weekend my husband and I had an evening to ourselves and after taking care of some errands (boring but also nice to do without little ones pushing each other) we went to eat at a restaurant named 'Thai One On'.  Just the name was enough to get me to go and try it out – I mean how clever?!
We started with the best Margarita I have ever had: Danger Dave's Spicy Margarita: You start with all the basic components but then add a bunch of smashed cilantro & juice from a Thai Hot Pepper. Whoa!! It was amazing and you need to try it…..immediately….unless your driving or piloting a plane.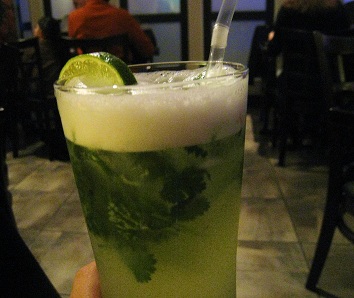 While fighting, I mean sharing the Margarita (advice: do not share, order your own), our Jumping Squid Appetizer came and made our smiles even larger. The squid was perfectly cooked.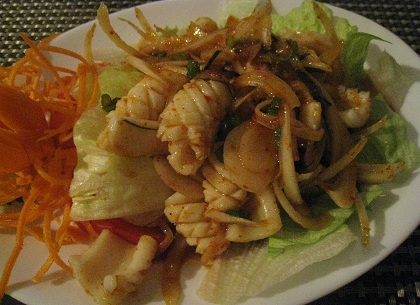 For my main course, I had the Pad Thai Woon-Sen I can't help but order that at any new Thai restaurant I eat at as to me, if they can not make am amazing Pad Thai, they are not a good Thai Restaurant.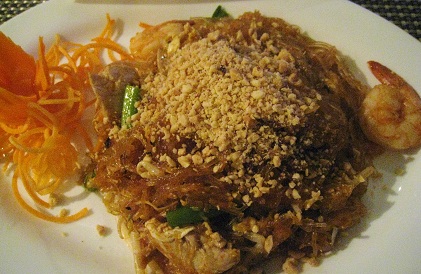 My husband ordered the City Connection (featured image) which consists of Shrimp, Chicken, Onion, Scallion, Pepper, Bamboo Shoot & String Bean in a Homemade Chili Sauce. He ordered it as a two-star or 'cautious'.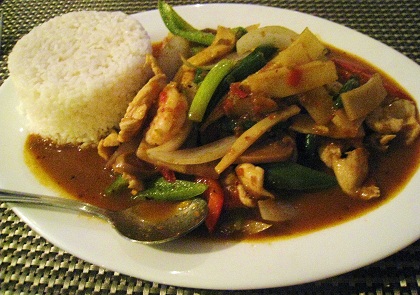 We both loved our meals and will be going back to Thai One On!
What is your favorite Thai dish?
*Post Image from Thai One On website