Seeing that Christmas/Holiday time is upon us, I decided to start working on homemade food gifts. I mean who would not want a gourmet food gift? I have been experimenting with biscotti, chocolates and bark. I am not a peppermint dark chocolate kind of girl but I am a white chocolate bark type of girl.
Ingredients
•1/2 pound good quality organic white chocolate, chopped (recommended: Green & Black)
•1/4 teaspoon pure orange extract
•1/2 cup crisped rice cereal
•1/4 cup dried cranberries
•Orange paste food coloring
 
Directions
First, line a baking sheet with parchment paper and set aside.
 
Then prepare a double boiler. If you do not have one, create your own by placing a glass bowl over a large saucepan filled with just enough water that it will not touch the bowl. Bring the water to a low simmer and add the chocolate and orange extract to the bowl. Stir until melted and smooth.
 
Once melted, remove the bowl from the double boiler (remove 2 tablespoons of chocolate for coloring and set aside) and mix in the cranberries and crisped rice. If you are drizzling orange chocolate on top, mix it with the orange coloring now and mix well. 
 
Pour the cranberry/crisped rice mixture onto the parchment paper with an offset spatula, and spread it to an even thickness (about 1/4-inch thick). With a small fork, drizzle the orange colored chocolate over the surface of the bark, making a stripped effect.
 
Refrigerate the chocolate for a minimum of 1 hour before breaking it into large pieces. Now you can eat it, place and tie it up in cellophane bags or place into a bell jar and wrap with a ribbon and tag to present as a gift.
 
Servings: Varies based on size of pieces and how it is packaged but simply double the recipe and have bark galore!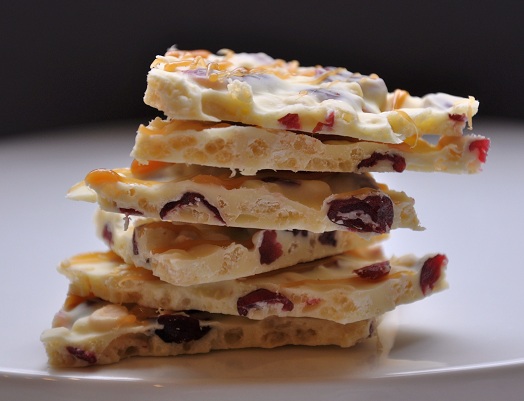 What do you think are the best food gifts?