The random moments in life. Aren't they magnificent? We had been home bound for three day: Christmas Day was full of family, gifts, food and fun then came two days of a blizzard but by late Monday afternoon the snow had ceased. We were around the kitchen table making crafts and my husband stated ' I like Cabbage Soup'.  My first thought was 'Where did that come from?'
So the questioning began: 'What did you say?', 'What made you think of that?', and then statements such as 'I did not know you liked cabbage' and 'I have not had cabbage since I was 8' and so on. Then it hit me and I said 'Let's plow the van through the snow and go buy the ingredients for cabbage soup.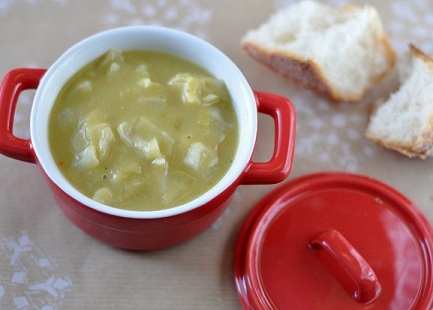 My husband thought it was nuts, the kids wanted nothing to do with bundling up but dang it, we were going to nourish our bodies with some cabbage soup. The trip was uneventful but I knew getting back up the driveway would put the freak in the family so as we approached the house I said 'Ready for an adventure family? Mommy is going to get us up that driveway (we do not have a snowplow and thanks to the blowing wind, there was no point in shoveling)!'  I threw the van into low gear and drove that behemoth of metal up the gentle slope and right into the garage. Then I looked to my husband and said 'That is how you drive in the snow'.
Oh my, I got a bit off the topic of cabbage soup but heck, the winter weather story should have you ready for some hearty soup. This recipe is especially meaningful to my husband as he made it with me last night while sharing memories of making cabbage soup with his Portuguese mama.  We did not bother to call and ask her how much she uses of anything as she (as with the culture it seems) cooks from the heart and just goes for it.  No need to bother with some silly recipe card.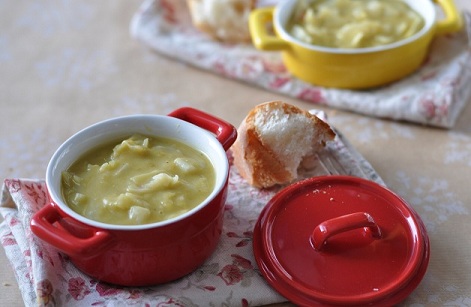 Ingredients:
1 cup dried split green peas (you can use yellow if you prefer)
7 cups of water
2 Tablespoons vegetable or olive oil
1/2 sweet onion, chopped
2 cloves garlic, chopped
2 stalks celery, chopped
1 carrots, chopped
4 cups low sodium chicken broth
2 russet potatoes, roughly chopped
salt and ground pepper
1/2 head cabbage (green, red or savoy) chopped into bite-sized pieces (about 7 cups)
Directions:
1. Pour peas and seven cups of water in large pot and bring to a boil. Cook for about 20 minutes.
2. In a skillet heat 2 Tablespoons of oil over medium to medium-low heat. Add the onions and cook for about 5 minutes, stirring often. Then add the garlic and cook for 5 additional minutes, stirring often.
3. To the onions and garlic, add the celery and carrots and cook another 5-10 minutes, stirring often.
4. To the peas, add the potatoes and continue to boil another 10 minutes. Then add the onion mixture to the pot containing the peas and add 4 cups of broth and bring to temperature.
5. Blend the ingredients using an immersion blender. Add the cabbage to the pot and allow to cook over medium heat, for 15 minutes or so until the cabbage is wilted.
Serve and then fell your soul fill with warmth (and thank you for the fiber)