Today is all things gluten-free and Elana's Pantry! Not only are many of us in the food blogger community aware of Elana's lovely blog, but many people have found her recipes helpful with dealing with food allergies. I have personally enjoyed her blog for a long time and have enjoyed every recipe I have made for my family. Although nobody in our family suffers with gluten allergies, I find many recipes more in sync with my ideas of better foods, so we include them in our diet.
Luckily for all of us, Elana has agreed to share two recipes from her cookbook 'The Gluten-Free Almond Flour Cookbook' and answer two questions that I sent to her. I am sharing one question and her recipe for gluten-free chocolate scones below.  The other question and the recipe for Chocolate Cake with Fluffy Marshmallow Frosting can be found at The Family Kitchen.
Without further ago, I asked Elana 'What are some basic steps that one can do to start moving towards a gluten-free diet (whether due to necessity or preference)? When people ask me how to get started on the gluten free diet, I give three quick pieces of advice.  
First, clean out your pantry, inspecting all products and ingredients, and eliminate the ones containing gluten (though don't through perfectly good food away, give it to a friend or donate it to a soup kitchen or shelter). 
Second, set a date with yourself for a non-buying trip to the grocery store, and give yourself an hour or more.  During this trip, research ingredients, read food labels and simply wander the aisles to see what ideas for food purchasing and preparation come into your head.  Think of it as "window shopping," for your "food wardrobe."
Third, if you have celiac disease and cannot keep an entirely gluten free kitchen (due to the diets of others in your household), take some precautions. You may wish to keep various items in your fridge for your own use only, in order to avoid cross contamination and ensure that such items are strictly gluten free.
All of the above tips involve a little thinking ahead, which can make the gluten free lifestyle far more simple to follow.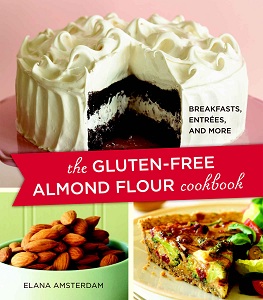 Chocolate Chip Scones (Makes 16 scones)
Sweetness: medium
In college, I used to pretend chocolate chip scones were a breakfast food instead of a dessert, devouring one nearly every morning. Using agave nectar to lower the glycemic index of this scone makes my unique categorization less of a stretch. Rich in antioxidants and low in sugar, organic dark chocolate makes these decadent-looking scones a healthy indulgence.
2 1/2 cups blanched almond flour
1/2 teaspoon sea salt
1/2 teaspoon baking soda
1/3 cup grapeseed oil
1/4 cup agave nectar
2 large eggs
1 cup coarsely chopped dark chocolate (73% cacao)
Preheat the oven to 350°F. Line 2 large baking sheets with parchment paper.
In a large bowl, combine the almond flour, salt, and baking soda. In a medium bowl, whisk together the grapeseed oil, agave nectar, and eggs. Stir the wet ingredients into the almond flour mixture until thoroughly combined, then fold in the chocolate. Drop the batter, in scant 1/4 cups 2 inches apart, onto the prepared baking sheets.
Bake for 12 to 17 minutes, until golden brown or a toothpick inserted into the center of a scone comes out clean. Let the scones cool for 30 minutes on the baking sheets, then serve.
Psstt….speaking of Elana and gluten-free recipes, lookie what I found (it involves cupcakes)! Be sure to bookmark Elana's Pantry and her recipes.
Reprinted with permission from The Gluten-Free Almond Flour Cookbook: Breakfasts, Entrées, and More. Copyright © 2009 by Elana Amsterdam, Celestial Arts, an imprint of the Crown Publishing Group, Berkeley, CA. Photo credit: Annabelle Breakey