Merry Christmas! I hope you all had a day full of joy, family, hugs and good food.  We spent Christmas Eve with one side of the family and all stayed up very late. Having young children meant we would be woken up early as the excitement in their little bodies would simply not allow them to sleep past the crack of dawn.
As expected, there was one of the little ones at the bedside anxious to go peek at what Santa left beneath the tree and if the eggnog cupcake had been consumed.  I took my daughter downstairs and she noticed the cupcake wrapper and empty mug was all that was left of Santa's snack and then she looked to see the gifts under the tree. Her eyes lit up as she looked around, presumably reading tags to identify her loot.  During this short period of time, the rest of household came running down to join us. We asked the kids to hold on one second as Grandma and Grandpa made their way in and sat down. That was tough for them.
My son was admiring the over-sized truck that was certainly his as my daughter was digging around under the tree. I asked her what she was looking around for and then she found it. 'Mommy, this is for you and Daddy. I made it at school and want you to open it'.  I asked her ' Don't you want to open one of your gifts first?'.  She replied 'No Mommy, I want you and Daddy to open this first. Be careful cause it is paper.'
I could not believe that this 6 year old wanted her Christmas morning to start with mommy and daddy opening a gift and not one for herself. She cared most about seeing the look on our faces at the gift she has worked so hard to make.  She made us a 12-month calendar and for each month, she drew a seasonal image. We were so touched. She put so much effort into this, we can use it all year long and it represented the spirit of Christmas.  She felt this was a gift that was fit for a King. It cost no money, it meant a lot to her, she worked hard on it and wanted it to bring us joy.
Thank You Isabel and Merry Christmas. Love, Mommy & Daddy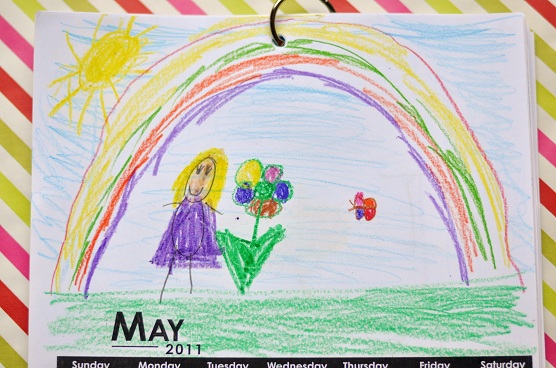 The image above is of 'mommy during the month of May, on Mother's Day'.