Many of you already know I am a bit of a compound butter fanatic: I love to make lemon parsley butter, maple syrup butter and just about any seasonal combination I can think of as they are perfect for meal solutions. You can bake with, top with or saute with compound butter and use it to add flavor to proteins, vegetables and breads.
Compound or Gourmet butters as some call them, are perfect no bake gifts of food for any Holiday or any occasion. Plus, they are simple to make and easy to customize to someones taste  preferences or personality. Does someone you know like Southwestern flavors? make a chili-lime butter. Do they love herbs and nuts? make a basil walnut butter.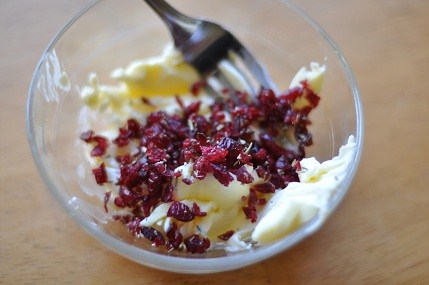 Below is a Christmas inspired butter I made and then roast with sweet potatoes. Yum!
Ingredients:
1 stick unsalted butter, room temperature
1/3 cup dried sweetened cranberries
1/4 teaspoon dried sage
1/4 teaspoon dried rosemary
1/4 teaspoon dried thyme
Zest of one mandarin orange or half of an orange, short strips
1. Place the cranberries and herbs on a cutting board, in a pile and chop them all at the same time and place in a bowl.
2. Add the butter to the mixture, and combine with a fork.
3. Wrap the mixture in wax paper, forming a log and refrigerate for at least an hour.
For presentation, wrap with twine and attach a nice card or consider placing the butter in a ramekin for a lovely presentation as well.
Come on over to The Family Kitchen if you are looking for more ideas and a recipe for Lemon-Parsley-Garlic Butter