In case you did not hear, New England, well, most of the East Coast was nailed by a blizzard and it covered us in wind blown snow. We took advantage of the snow during the storm yesterday by making basic snow cream and then eggnog snow cream.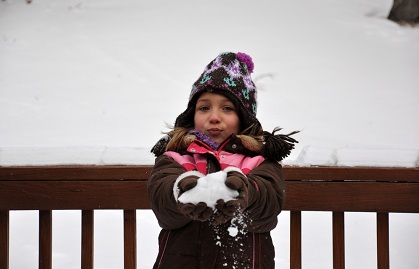 Once the wind seemed to calm down a bit today, we suited up and headed out as the kids were bouncing on the walls. Shoveling was fruitless so we just played instead.
We also spent some time experimenting with food and made a few appetizers we plan to serve on New Year's Eve and a stuffed pork tenderloin (spinach and reduced fat cheese).  Then my husband mentioned he likes Cabbage Soup. Out of the blue, like 'Where did that come from?' so we headed out to the store so I can make the soup tomorrow.
The drive out was not the best of ideas. Any-who, enjoy the photos and tell me: What are some of your favorite foods to make/eat when snowed in?