Prepare for a post that has so many links in it, I pondered applying to Guinness Books of World Records……I have had such a great week with all of you and I hope your first week of 2011 has exceeded your expectations. I am glad many of you had so much fun with Part 1 of the interview with my son and I will post Part 2 this Wednesday.
As you may know, I also write for The Family Kitchen and would love to share some of the posts from last week in case you have not seen them yet:
Edamame Corn Salad (stick to those healthy eating goals peeps)
Skinny Baked Crab Dip (ohhh….still having dreams of it)
A Healthier Egg McMuffin (who knows what is in the bread – buy a no preservative whole wheat)
Sweet Potato Hummus from the Power Foods Book
The Kitchen of the Future
I also shared the Quinoa Salad with Apples and Goji Berries that I shared here in early December.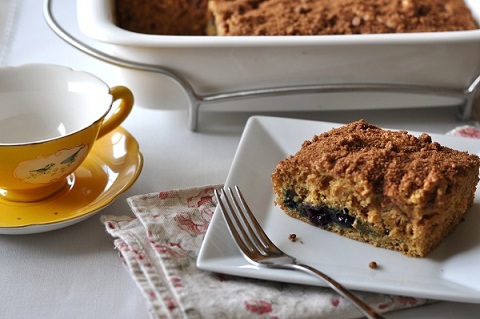 I am also all giggly as I was asked to create another recipe for Villeroy & Boch so I made a Blueberry Coffee Cake using Greek yogurt and some other goodness instead of baking a fatty patty with sour cream. Oh, but hey, I love a juicy coffee cake like the next person but did not miss a thing as I scattered in plenty of cinnamon, brown sugar and blueberries.
I am also planning series of interviews of Digital Moms and how they approach foods/mealtime/planning and plan on these interviews being filled with all kinds of goodness! So, please let me know'What Moms (bloggers/social media/digital) do you admire and love me to interview with?