A New Year, New You right? That is usually what happens in early January after the hang-over wears off. Well, I have been cooking from a book called Skinny Dips for about 2 months and must share this gem. The book is authored by Diane Morgan (many food bloggers know of Diane) and she has, yet again, authored another gem!
The book is a lip-smacking collection of tasty party dips made with low-calorie and low-fat ingredients but you would never know it (but your hips will)! The topics in the book include tips and techniques, party planning tips, healthful ingredient glossary.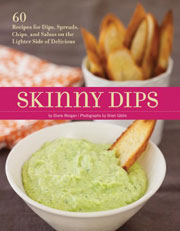 Chapters cover:
1. Vegetables and Herb Dips
2. Salsa, Guacamole and Tapenades
3. Cheese and Tofu Dips
4. Bean and Legume Dips
5. Meat and Seafood Dips
6. Crudites and other Skinny dippers (this includes roasted vegetables, Bruschetta, Baked Wonton Crisps and More!)
In fact, I enjoyed the recipes so much, I am sharing the Baked Crab Dip in The Family Kitchen (I write there every day so come by often as I would love to know you dropped by and we share some darn good chow)
Parmesan Spinach Dip
What makes this dip so different from the classic spinach dip recipes I've tasted is that it is made with reduced quantities of mayonnaise and sour cream—and low-fat versions of both, to boot. With no heavy binders to dull the flavor, the hint of fresh lemon zest, the undercurrent of garlic and onion, and the nutty flavor of the Parmesan all come through.
1/2 small white onion, roughly chopped
1 clove garlic, smashed
Grated zest of 1 large lemon
1 tbsp fresh lemon juice
1 package (10 oz) frozen chopped spinach, thawed and water squeezed out
1/2 cup reduced-fat mayonnaise
1/2 cup reduced-fat sour cream
1/2 cup (2 oz) freshly grated Parmesan cheese, preferably Parmigiano-Reggiano
1 tsp kosher or sea salt
1/2 tsp freshly ground pepper
Skinny Dippers: Crudités, Crostini, Baked Pita Chips, Baked Bagel Chips, baked potato chips, Seeded Tortilla Chips
In the workbowl of a food processor fitted with the metal blade, process the onion, garlic, and lemon zest until finely minced. Add the spinach and pulse several times until finely chopped. Add the mayonnaise, sour cream, Parmesan, lemon juice, salt, and pepper. Process just until the dip is well mixed but not puréedsmooth. Taste and adjust the seasoning. Transfer to a serving bowl and serve immediately.
 
Makes about 2 cups (serving size: 2 tbsp)
Dip Do-Ahead
This dip can be prepared up to 1 day in advance. Cover and refrigerate. Remove from the refrigerator 20 minutes before serving.
CALORIES 56; FAT 4.3g (sat 1.5g, mono 0.5g, poly 0.1g); PROTEIN 2g; CARB 2g; FIBER 1g; CHOL 8mg; IRON 0.4mg; SODIUM 194mg; CALC 70mg
*Book and recipe by Diane Morgan and Sheri Giblin
Disclosure: I was provided a copy of the book.