| | |
| --- | --- |
| | Shaina Olmanson is the home cook and photographer behind Food for My Family and Olmanson Photography, a daily contributor to Babble.com's Family Kitchen Blog and the editor of the food channel for Lifetime Moms. She strives to teach her four children to cook and prepare real food in a day and age where many people have turned to convenience foods because they are so readily available, and she hope to encourage others to do the same. Shaina can usually be found in one of three places: cooking, at the computer or behind the camera. |
My kids are always welcome in the kitchen. It's something I decided long ago when I saw the confidence and pride that having my oldest daughter help in the kitchen created. She would beam when she'd been a part of making dinner, presenting it to her dad and younger brother as if they were in a fancy restaurant.
No matter what we'd made, she was excited, and her excitement translated into her interest in eating dinner as well – this from the girl who used to cry if we added pepper to the green beans. These days my eldest is exploring different spices and flavors and my three younger kids are going through their own developmental stages and picky phases.
One way we embrace the differences and the preferences of each of the kids is by having a family pizza night where each member is in charge of rolling the dough (with help for the younger kids) and topping their pizza with their choice of sauce and toppings. By allowing the kids to make their own choices about what they will eat on their pizza, we have a meal where everyone is happy and satisfied, and it encourages the kids to be involved in how they feed themselves.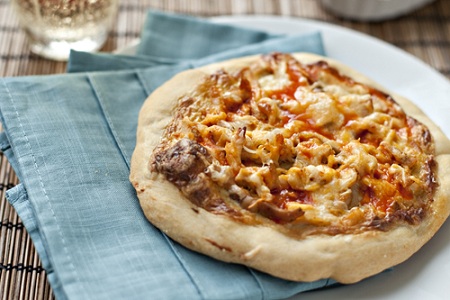 No Fail Pizza Crust
This crust is no fail because even if you don't have time to let it rise, it still works as a great crust. Your results will be different, a bit more like a New York thin-style crust with a crisp bottom and a chewy texture, which you may prefer anyway.
1 cup warm water (about 110 degrees)
1 package (2 ¼ tsp) active dry yeast
2 tablespoons olive oil
1 1/2 teaspoons kosher salt
2 teaspoons dried herbs (basil and oregano are my herbs of choice)
3 cups all-purpose flour
Pour water into medium-sized bowl. Sprinkle yeast over and allow to sit for five minutes until slightly frothy. Mix in olive oil, salt and herbs. Add flour ½ cup at a time, mixing after each addition. When all the flour is incorporated, turn the dough onto a flat surface sprinkled with flour. Knead the dough a for example times until smooth.
Place dough into an oiled bowl and cover. Let rise in a warm place for one hour. When the dough has risen, punch down and split into 8 separate balls. Preheat oven to 475 degrees F. Roll dough on a floured surface into ¼"-thick circles.
Sprinkle cornmeal on baking sheets or pizza peels (to transfer to baking stone). Place dough on top of cornmeal. Top dough circles with favorite sauce and toppings. Bake at 475 degrees F for 15-20 minutes until crust is golden and cheese is beginning to brown.
Makes (8) 6-7″ pizzas or (2) 14-16″ pizzas.