Thanks so much to Jennifer for asking me to write this post.  For those of you who are regular readers of her blog, you know that she is a talented lady that churns out fantastic recipes week after week.  I had the pleasure of spending some time with Jennifer in the fall and she is sweet, spunky and entertaining – someone I am happy to call my friend.
Serving up interesting vegetable side dishes every night can be a challenge, but it takes just a few additions to vegetables such as spaghetti squash to make something that will please the whole family.  That being said, I often find myself steaming carrots and broccoli, despite the moans of "Not again" from my kids.  When my youngest son was a baby, he ate pureed sweet potatoes and carrots like they were going out of style.  That is, until our friend pointed out that he had an orange tinge to his skin.  My child was actually turning orange from lack of vegetable variety.  You would think I had learned my lesson.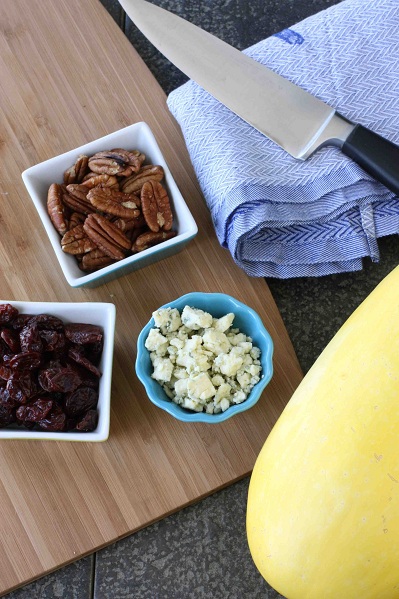 In an effort to stop my children from becoming public spectacles, I started experimenting with a large variety of side dishes.  Thanks to its ease of preparation, pleasing crunch, and ability to meld with a variety of flavors, spaghetti squash became a favorite in our house.  This version boasts creamy Gorgonzola cheese, toasted pecans and sweet dried cherries.  For a little variety, also check outSpaghetti Squash with Chipotle Peppers, Queso Fresco Cheese and Cilantro. 
1 (3 lb.) spaghetti squash
4 tbsp extra virgin olive oil
1 tbsp plus 1 tsp white wine vinegar
1/4 tsp kosher salt
1/2 cup crumbled Gorgonzola cheese
1/2 cup pecans, roughly chopped and toasted
1/2 cup dried cherries
2 green onions (white & green parts), thinly sliced
Using a large, sharp knife, pierce a spaghetti squash in several places.  Place the spaghetti squash in a glass baking dish and cook in the microwave on high for about 15 minutes, turning the squash halfway through cooking.  Before handling, let the squash stand for 10 minutes.  Cut it in half lengthwise and scrape out the seeds and fibers.  Using a fork, twist out strands of the spaghetti squash flesh and place in a large bowl.
In a small bowl, whisk together, olive oil, vinegar and salt. Pour into the spaghetti squash and toss.  Add cheese, pecans, cherries, and most of green onions, and stir well.
Serve and garnish with remaining green onions.
Serves 6 to 8 as a side dish.
Be sure to head over to Cookin' Canuck and look at all the mouth-watering recipes and serious eye candy photos!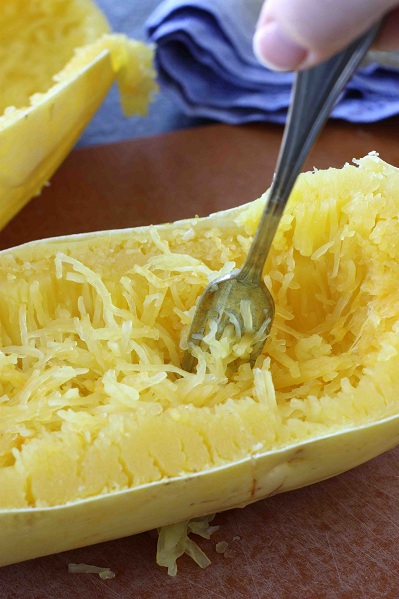 Have you tried Spaghetti Squash?