I am blushing. Why you wonder? I am so flattered but the awesome-ness (yes, I consider that a word) of my guest posting peeps. I know you all loved it because there were so many wonderful comments. Not to Self: Get. Those.Women.Back.Over.Here
Plus, their photos and recipes were so inspiring. Seriously, I pulled my rain-booties on and ran to the store to grab ingredients. I did not even get distracted by the latest celeb news and shirtless men on the covers of the high quality magazines. Nope. Okay, I sneaked a peek but then quickly refocused.
The first item I spied was a huge spaghetti squash. Wait, do small ones exist? Anyway, Dara from Cookin Canuck had me in such a tizzy over her Spaghetti Squash recipe that I knew I had to try a similar recipe. Stat.
I already had the recipe in my head: Feta? check. Dried Cranberries? check. Almonds? check. Get home, Run!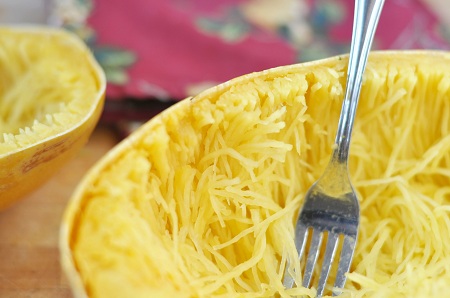 Spaghetti Squash with Feta, Dried Cranberries & Almonds (Note: I only used about a third of the actual squash 'noodles' for this recipe)
1 spaghetti squash
3 Tablespoons extra virgin olive oil
1 Tablespoon light rice wine vinegar
Pinch of sea or kosher salt
Pinch of ground black pepper
1/3 cup reduced fat feta cheese, crumbled
1/3 cup dried cranberries
1/4 cup sliced almonds
1 scallion (green parts), chopped
Preheat the oven to 375 degrees. Take the knife with the sharpest point (you know, the one from the set you received off your wedding registry) and stab gently pierce many holes into the spaghetti squash.  Place the spaghetti squash in a baking pan and bake for 1 hour (or microwave on high for about 15 minutes but since I was already using the oven I tossed this big boy in as well)
Allow the squash to cool for 15 minutes or risk getting a steam burn (ouch!).  Meanwhile, in a small bowl, whisk the oil, vinegar, salt and pepper together and set aside.
Cut the squash in half lengthwise and remove the seeds and any fibers that stick to them.  Then you can easily twist out the spaghetti squash 'noodles' and place them in a bowl. Top with the vinaigrette and toss well.  Add the feta, cranberries, almonds and scallions and mix gently.
Have you ever tried Spaghetti Squash?