Happy World Nutella Day! World Nutella Day was launched 5 years ago by Ms Adventures in Italy, who then teamed up with Bleeding Espresso to tackle all that is Nutella. World Nutella Day has continued to grow each year and in anticipation, I began thinking about recipes a few months ago.  I instantly envisioned a Whoopie Pie with Nutella filling.
Then I was brainstorming for a crunchy touch: nuts? chocolate chips? No, graham crackers!  The recipe I use is on a piece of paper that I have had for a few years, but I am pretty sure that I had found the recipe on MarthaStewart.com and that it was for a chocolate sponge cake.
Ingredients: Yield ~24
1 3/4 Flour
1/2 teaspoon salt
1/2 teaspoon baking soda
1.5 teaspoon baking powder
1/2 stick unsalted butter, room temperature
1 cup sugar
1 egg
1 cup of buttermilk (If you do not have any,  use 2 Tablespoons lemon juice plus 2% milk up to 1 cup line)
1 teaspoon pure vanilla extract
Nutella (I did not measure so put on as little or much as you wish)
graham cracker crumbs
Preheat the oven to 400 degrees. Sift together flour, salt, baking soda, and baking powder and set aside. Line two baking pans with Silpats or parchment paper. Then use an electric mixer fitted with the paddle attachment to cream the butter and sugar. Add eggs, buttermilk, and vanilla. Beat until well combined. Slowly add dry ingredients and mix until combined.
Using a teaspoon, place a heaping amount of the mixture onto the lined baking pans, 12 per pan. Bake for 10-12 minutes. Remove to a rack to cool.
 
Spread Nutella onto each of 12 cookies and then sprinkle the graham cracker crumbs on top. Sandwich together with remaining 12 cookies.
What are some of your favorite ways to eat Nutella?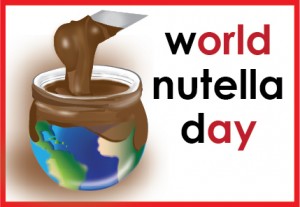 Stay tuned as there are more Nutella recipes coming up!