"Did you know that girl's bodies are made of cheese?" It is true. I am sure of it because I heard my 5 year old son stating this fact to his 4 year old girlfriend. She seemed convinced so it must be true.
He then went on to interrogate her on friends #1-#3.  He was curious as to his position and defended his right to remain #1 because 'you see me a lot in 2011.'
These little people conversations are pure sweetness and almost cause my teeth to rot. I mean, the sweetness is just well, it makes me 'squee' out-loud.  Speaking of sweetness: many of you may recall the Peanut Butter, Honey & Dried Cranberry Brown Rice Crispy Treats  from a while back and boy, it seems that I hit a nerve for sure as you all loved it! Happy me!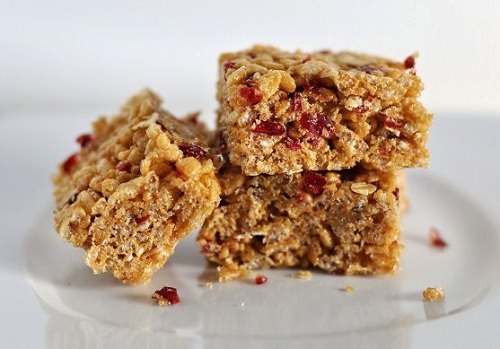 Plus, if Glamour magazine thinks I make great crispy treats, than I need to keep experimenting. So, I went back into the kitchen with my 5 & 6 year old assistants and those cuties worked me until I had another 'kid approved sticky yummy snack'.
I present the Chewy Sunflower Seed Butter, Oats, Dried Cherry & Honey Brown Rice Crispy Treats:
¼ cup all natural honey
¼ cup creamy sunflower butter
2 cup crispy rice cereal (brown rice is a healthier option if you can find it)
¼ cup old-fashioned rolled oats
¼ cup dried cherries, finely chopped
cooking spray
Directions
1. Combine the sunflower seed butter and honey in a small bowl, mix well and then microwave for 30 seconds at 50% power. If the mixture is not melted, repeat for another 20 seconds
2. Add the rice cereal to the sunflower seed butter honey mixture and stir to combine. Fold in the cranberries and oats and gently mix.
3. Press the mixture into a small pan that has been lightly sprayed with cooking spray. Spread the mixture evenly and then place in the refrigerator to chill for 30 – 40 minutes. Cut into squares and listen for the 'Thank You's'!
What are some of your favorite sweet indulgences?