Sawweeet. I recall watching South park about 15 years ago and Cartman used to say 'Sawwweeet'. That is what popped into my head when I tasted the Peanut Butter and Jelly Syrup that I made this morning.
Here is the sequence of events that lead to Homestyle Waffles with Apples & Peanut Butter and Jelly Syrup: Boy woke up at 5 am with a stuffy sickly nose. He needed extra warm cuddles and mommy nibbles. By 7am the boy could no longer contain his desire to go play in the snow (yes people, snow) and went ahead and started getting his snow gear on without mommy.  Mommy watched him do circles around the house and smiled because boy is in awe of his footprint making ability. 8:30 am the boy begged for a  peanut butter and jelly sandwich. Uh-Oh, mommy is out of bread.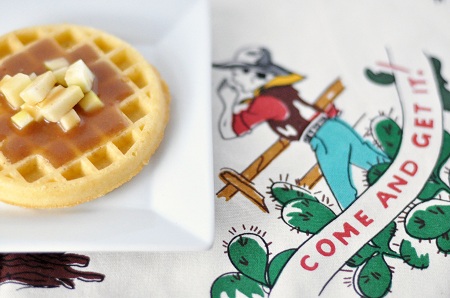 Mommy opened freezer grateful for daddy's purchase of some Van's organic gluten-free frozen Homestyle Waffles. Mommy tried to convince boy that waffles are a better option. Boy disagreed. Mommy had a light bulb go off in head: make a pbj syrup and toss some chopped apple on waffles so mommy has less giving-kid-too-much-sugar guilt.
Mommy successful. Boy smiling as falling asleep on couch. Mommy thinks she sugar shocked boy and cold bugs. Sleep is the only way to recover from such affliction.
Peanut Butter and Jelly Syrup
1/2 cup pure maple syrup
1/2 teaspoon all natural peanut butter
1/2 teasoon real strawberry jelly/jam
1. Heat waffles according to manufacturer's directions (or make your own).
2. Place the syrup, peanut butter and jelly in a bowl and whisk until combined and set aside.
3. Chop apples and scatter atop the waffles, then drizzle with syrup.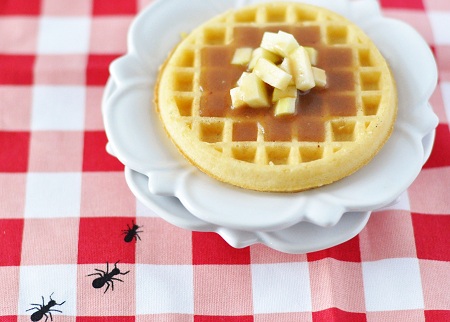 Unwelcome guests.