I can not help myself from more Charlie Sheen 'inspired' posts because as he says: "I got magic and I got poetry in my fingertips.".  This recipe (not far from yesterday's but a bit nuttier) got me a fine and dandy how-do-you-do ma'am tap on the tushy. That's right, when I baked up the fabulous Nutella, Strawberry & White Chocolate Pop Tarts, I also baked these. Then ran off to scoop up my youngest from school.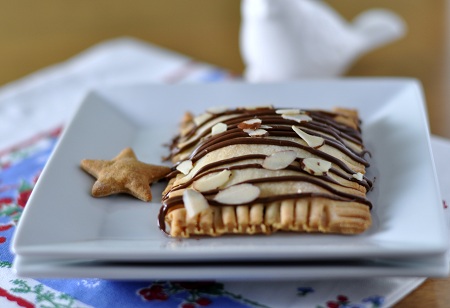 Upon arriving home, I found one lone pop tart remaining for photographs. Yup, I left my hungry man lunch-less and so he made due…..with 3 (not kidding people) of these babies! When we arrived home, he came down to greet his boy and gave me a good ole' love tap on the back-end and stated 'those things you made were good'.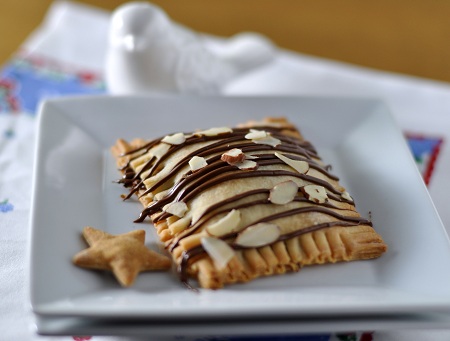 So, back to Charlie Sheen: I knew I need to increase the nuttiness so I included sliced almonds in this recipe and included some fresh organic apples. Delish!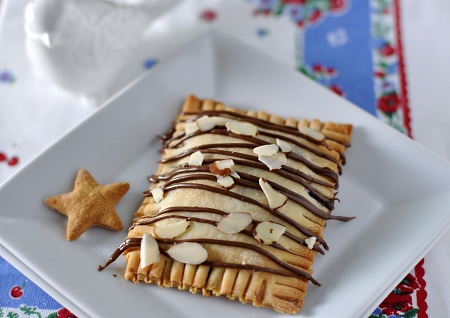 Do you think he would say these are 'Winning'?
Homemade Nutella Apple Almond Pop Tarts (yield 4-5 pop tarts)
1 package of refrigerated pie crust (preferably the non-hydrogenated oils and sludge kind or make your own)
6-7 teaspoons of Nutella
1/2 organic golden delicious apple, thinly sliced
1/4 cup sliced almonds
Topping:
2 teaspoons nutella, melted
Directions:
1. Preheat the oven to 400ºF.
2. Bring the pie crust to room temperature and then roll out atop a lightly floured surface. I try to roll mine into a more rectangle-ish shape, then measure and score it into 3×4 rectangles. I then used my super sharp pizza cutter to cut out the rectangles.
3. Place the rectangles onto a cookie/baking sheet covered with parchment paper. Spoon 1 teaspoon of nutella onto 4 (half the yield) of the rectangles, leaving about 1/4 inch of space at each edge. Place a slice of apple on top of the nutella.
4. Place the 4 remaining rectangular pieces of pie crust on top of the nutella & apple covered pieces. Using a fork, seal the edges together gently, and bake for 13-15 minutes
5. Place 2 teaspoons of nutella into a microwave safe bowl and warm for 30 seconds on 50% power. Mix and repeat until the nutella is melted. Transfer it to a small plastic baggy, cut a teeny tiny piece off the corner and then drizzle the nutella over the pop tarts, sprinkle with almonds and serve.
Did you notice that little birdie that came along and tried to get to the pop tart? I have no explanation except to say that when Charlie Sheen is around, even birds behave strangely.