Can you feel it? The excitement? The busy-ness? the joy of summertime? I can already envision the hurried days and abundant energy of the kids all summer. The exhausted eyes that have played so hard all day. The quite-too-pink-from-the-sun cheeks resting under those sleepy eyes. Delish-i-ousness!
I even look forward to what I will hear each morning: 'Mom, what are we doing today?' or 'Mom, where are we going?' or even 'Who are we playing with today?'
Well, with that bouncy joy comes a mommy in need of extra energy.  While at the gym Tuesday, I flipped through Health magazine and spotted their red-carpet ready salad and was inspired. My salad varies quite a bit from theirs bit I am certain it will put a bounce in my step.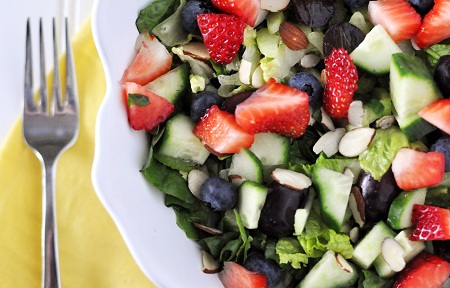 Antioxidant Orchard Salad
1-2 heads of Romaine lettuce, shredded (cut in thin width-wise strips)
1 cup red grapes, sliced length-wise
1 cup blueberries
1 cup sliced strawberries
1 stick of celery, sliced thin
Handful of sliced almonds
1/3 English cucumber, quartered and chopped
fresh herbs, chopped
Directions
Combine all ingredients and top with your favorite vinaigrette. I choose Annie's fat-free balsamic vinaigrette. Delish-i-ousness!
What are some of your favorite summer activities?