Memories like the corner of my mind . Yes, that song pops into my head when I think of an Asparagus-Gruyere Tart. I was first introduced to the Asparagus-Gruyere Tart when my friend Kate brought it over for my birthday celebration. I knocked her to the floor, sat on her legs and warned her to hand over the recipe 'or else'.
Well, no that did not happen but I did invite myself over her house the next day and request the recipe. She whipped out my one of my favorite cookbooks, 'Everyday Food – Great Food Fast' and said it was in here. 'Bahhh' I belted out. 'I have that book!'.
Flash forward three months and I was be-bopping on the phone with Ms. Vera Sweeney(bloggy peeps rawk) about boys, blogging and food when she said 'Why don't we pick a food, make a recipe and co-link?' I said 'foodi-licious-ness be done!' and we decided to do a tart-ish type of thingy. I went ahead and made the Martha tart but then on Monday, I was making food for a family and with all of the clementines I had sitting on the counter, I knew they needed to be a part of another recipe.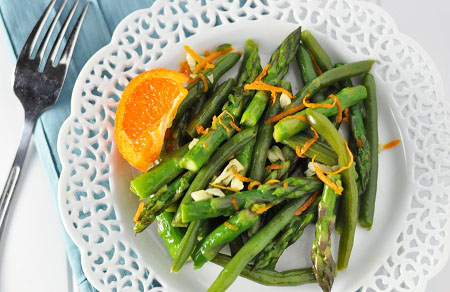 That is it I thought, I am going to make an asparagus and green beans dish and use those clementine's. Hence, I decided to share that original recipe instead of simply posting a link to Ms. Martha.
Enjoy and be sure to go drool over the Chicken, Asparagus and Feta Crepes (Yes, I said crepes) that Vera made!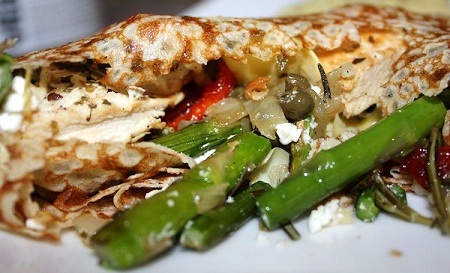 Asparagus and Green Beans with Citrus-Garlic Oil (easily serves 4 as a side dish)
2 Tablespoons extra virgin olive oil
Zest from one clementine
Juice from one clementine
1 clove of garlic, roughly chopped
1 bunch of asparagus, cut into 1.5-2 inch pieces (I simply just snap then where they want to break)
12 oz. green beans, frozen
salt and pepper
Directions
1. In a small pan, heat oil, clementine zest and garlic over medium high heat. As soon as the oil begins to boil or get really hot, turn it down to low. Simmer for 2-3 minutes.
2. Meanwhile, work in two stages*: Green Beans: I microwaved a bag of green beans that you can steam per instructions on the bag. For the asparagus: bring a pot of water to a boil and steam the asparagus for about 2-3 minutes depending on thickness.
3. Place the infused oil and fresh clementine juice in a bowl and add the greens beans and asparagus. Toss well and season. Garnish with some fresh zest if you wish.
* Alternatively, you could steam fresh green beans with the asparagus however, to avoid overcooking, add the green beans on top after the asparagus has steamed for 1 minute.