Oh Momma! (makes me think of the way Ellen Degeneres says it). You always want to make a visit or time with Mom so special that you go out of your way to have all of their favorites in your home. We picked up some classic movies from the library, turned the heat a few degrees higher and made sure there was a vase full of alstroemerias on the family room table.
This holds true for stocking up on her favorite nibbles and munchies. After the spa party on Friday, Mom said, 'I need something light but hearty to eat' so I started brainstorming. Knowing that she loves veggies and pastas, I offered to make wheat berries. Nada. How about the spaghetti with pesto and peppers? Nada. How about some couscous? The eyes shifted.
I hit on something so I expanded on the theme. 'I have asparagus Mom and some red peppers'. 'Oh, and the couscous is Israeli Couscous and I can serve it on a bed of baby spinach'. The smile formed so I went about making the salad.
Now honestly, I wanted to toss a bunch of feta on top of this and I encourage you do to so however, I made this Friday so there was no feta around seeing that I gave up cheese for lent. In addition, with the tangy vinaigrette, we did not miss any cheese and went about smiling and chatting like girlfriends.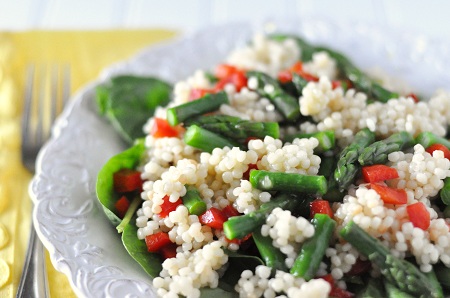 Asparagus & Red Pepper Israeli Couscous Salad
1/2 pound or bunch of asparagus, woody end removed, steamed and cut into 1 inch pieces
1/2 red pepper, chopped
2 cups cooked Israeli couscous
2 handfuls of baby spinach, cleaned
This may seem like too many steps but it really isn't as the asparagus and couscous were cooking at the same time and then, as they cooled, I prepared the vegetables and dressing. Simply read through it once and then commence in creating!
Directions:
1. To prepare the asparagus: Begin boiling water with a steamer insert in place. Remove the woody ends from the asparagus (where they ends naturally snap off) and steam the asparagus for 2-3 minutes. Meanwhile, prepare an ice bath by placing ice cubes and cold water in a large bowl.  Remove the asparagus from steaming and immerse into the ice bath. Drain and set aside on toweling to remove excess water. Chop.
2. To prepare the couscous: Adjacent to the pot for the asparagus, begin boiling water for the couscous and cook to manufacturers instructions. I cooked 1 cup of dry couscous to yield over 2 cups cooked.
3. Prepare the vegetables and dressing while the couscous is cooling and the asparagus is drying. When you are ready, combine all of the ingredients and place in a bed of baby spinach. Top with desired amount of dressing.
Orange-Pineapple Vinaigrette (yield about 1 cup)
1/2 cup extra virgin olive oil
1/2 cup orange-pineapple juice (simply orange brand)
a splash or two of cider vinegar
salt and pepper
Directions:
Pour the olive oil and juice into a bowl and whisk until combined. Taste and the add vinegar and seasonings to taste. Pour immediately over the couscous salad and savor it.