Phew, what a title. Now that we got through that, let me tell you how I came up with this gooey, newey treat. See, my babies gave up chocolate for lent and at age 5 and 6, I am so impressed. Not that we are daily chocolate eaters but with birthday parties and all, it forced the kiddos to come face to face with the sweet treat frequently.
For example, my daughter was at a gymnastics party and a chocolate cake was served as the birthday dessert and you know what she did? She said 'No, Thank You'. Don't fret, Daddy took her for a vanilla ice cream after the party. So, I took the brown rice crispy treats that are so popular around here and added nutella to the mix.
Yes, I did. And now these little babies will be sitting at the Easter table as place cards. How delish is that? edible place cards. It's not like kids consume vegetables on Easter anyway.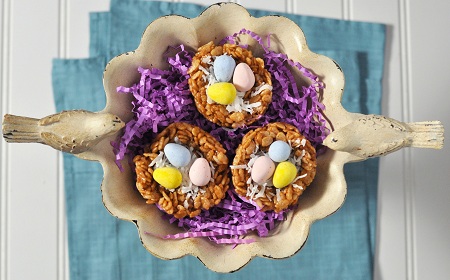 1/2 cup nut butter* (I used sunflower)
1/2 cup honey
1/3 cup Nutella
5 cups crispy brown rice cereal
Cooking spray
Directions
1. Combine peanut butter, honey and nutella in a medium size bowl, mix and microwave for 30 seconds at 50% power. If the nut butter is not melted, repeat for another 20 seconds. Mix well.
2. Add brown rice cereal to the nut butter-honey mixutre, 1 to 2 cups at a time and stir to combine until mixture is sticky.
3. Spray a muffin pan with non-stick spray and place some mixture into each well. Shape each into a nest shape. If you are finding the mixture to sticky, dip your fingers into some water, shake it off and get back to shaping.
4.Place in the refrigerator to chill for at least 30 – 40 minutes (I covered with plastic wrap and refrigerate overnight). Remove the nests carefully from the muffin tin and set on a plate.
5. Fill with your favorite nibbles.
*Please feel free to use any nut butter however, you may need to warm it for a shorter time if it is thinner or less viscous than peanut butter.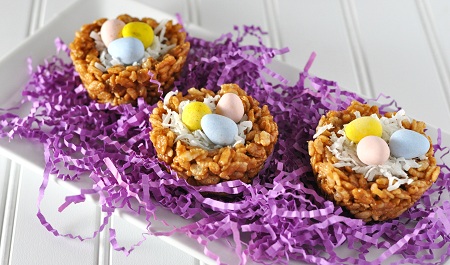 Newflash: My friend Kelsey and I will be hosting a Twitter Party today at 1pm EST for Fresh Sweet Corn
What: #freshcorn Twitter Party
When: TODAY: Thursday, April 21, 1:00 p.m. – 2:00 p.m. EST
Contest Alert! Be sure to click over to the Fresh Sweet Corn website to share your great corn recipe and a chance to win $1,000!!
In addition to partying and chatting about one of the most delicious foods on the planet, you'll have the opportunity to win one of FOUR $25 Visa gift cards.
Every 15 minutes we will ask you to share your favorite corn recipes, retweet awesome cooking techniques or  answer trivia questions about fresh corn, and one randomly selected person will win and receive a gift card that very same day!