After chowing down on the breakfast pizza at 10 am, my boy and I went off to play 'cars knocking over buildings made from blocks', chase through the hallway and hit daddy on the butt after he accidentally stepped on my foot.
After we ate lunch, my son headed to his room. I thought he was going to try to fit in a nap but instead he crawled under the covers with a huge stack of books and 'read'. I had the privledge of sitting outside in the hall listening to him 'read' his books. He did this for an hour. Bliss.
I started on dinner mid-afternoon as we had to leave the house at 5 for soccer practice. Tonight's dinner was a bowl of olives, steamed corn and baked chicken tenders featuring a dusting of flour, a dip in an egg-mustard combo and a coating of panko breads crumbs and Parmesan cheese. I used organic chicken breasts I cut into tenders. In fact, I scored them as a BOGO.
This leads me to this weeks Organic Living Challege: Give a Meal a Makeover. Your family's food should be nutritious and choosing certified organic food is a simple way to help promote health. You can do it by taking small steps that have a big impact.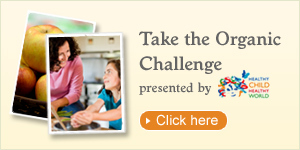 Your challenge is to prepare a meal for your family that includes at least one organic ingredient.
Directions:
Choose one of your favorite family meals to adapt.
Identify at least one ingredient from that meal to buy organic.
Enjoy making food! Savor the sights, smells, and textures and encourage children too, as well.
Tips:
Wondering which organic ingredients to start with? Try those that your family eats the most — milk, meats, yogurt, fruits, vegetables.
Find deals and discounts on organic foods by using this guide. 
Use one of the following tools to learn about risky chemicals in specific foods.
            What's on My Food 
            Brain Food Selector 
There's an app for that! Check out this app: iScan My Food – This iPhone app allows you to scan food ingredients and contains information on harmful food additives, toxic ingredients in food and genetically modified foods.
Healthy Child Healthy World is a national non-profit inspiring a movement to protect our children from harmful chemicals. With a growing body of evidence linking everyday environmental contaminants to asthma, learning disabilities, obesity, cancer and more, Healthy Child translates the science and empowers parents and caregivers to create healthy environments where children and families can flourish. Visit www.healthychild.org for more information.