I admit it: the stress got to me. For those of you following along, you know we have been getting the house ready to put on the market. The kitchen is done and the house is a mess. I have been polishing, cleaning and organizing cabinets, pantries, closets etc. and in the meantime, everything else is a mess.
When getting your house show ready, the daily picking up and all gets put to the side and all the areas where you normally hide stuff, toss things, etc. are now going to be open for inspection at any time. It is exhausting.  And it led to this…..
I scurried around at 4:30 yesterday: finding shin guards, feeding kiddos, packing water bottles and snacks, many layers of clothing (darn early spring around here) and at 5:00, had the fam buttoned up and strapped into the car. Just as I sat my ageing rear end in the car, my daughter said 'Mom, why do you keep telling us to pick up when your room and this car is a mess. You see what is coming right? I opened my mouth and let loose for two of the longest minutes my kids and husband have ever experienced.
Here is a summary of what I ranted off: 'Oh, why is the car and my room a mess? Oh, you mean between the laundry gathering, cleaning, folding an putting away, dishwashing, pantry emptying and repacking….between the cabinet and stainless steel polishing and the entire household trim cleaning, I was also supposed to clean this car and put away the huge piles in my room?" PAUSE….look on faces change from surprise to almost annoyed….
"Or, you mean between your birthday party planning, toys putting-away, wood floor polishing, grout scrubbing and shoe donating, I was supposed to do the rest? Maybe, just maybe the three of you, who also belong in this family, could pick the stuff off the floor of the car that you put there and then maybe the car would look decent? Or, maybe if you all would take the piles of clean and folded laundry up the stairs instead of walking around them, I could do all the rest."
I then turned around, shut my mouth, took a deep breath and realized, I need to take a few more deep breaths.
Upon arriving at the soccer field, I said 'I love being a mommy and wife but as you can see, I only have the same amount of time each day that you have. Sorry for freaking out on you.' Phew.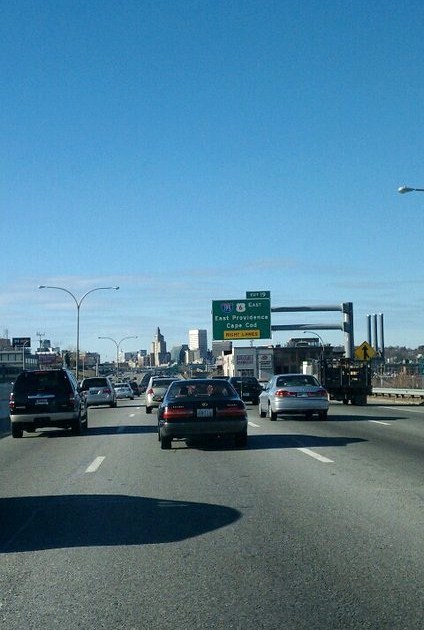 New topic: One reader picked up on a statement I made in this post. Did you catch it as well?
Here is the scoop: I headed into downtown Providence to take part in a Dunkin Donuts Iced Coffee commercial. It was freezing cold outside and I have no idea if I will actually be in the commercial but is was fun nonetheless and I can now cross 'Auditioning for a commercial/Being in a TV commerical' off my bucket list.