There used to be only one time of year that I enjoyed pastels and that was always at Easter time. Then I had a little pink bundle of joy: my baby girl. From then on, I was a lover of all things pink however, Easter always brings out the joy of candy and pastels right?
And in case you haven't guessed, I do not make Easter baskets full of peeps and jellybeans. I will leave those to grandparents but there is no way I will be the Grinch who stole Easter.
I fill their baskets with books, matchboxes and littlest pet shops although I will sneak in a few small vintage decorated chocolates and some crispy treat pops. Still sugar 'Yes' but too much, I say 'No'.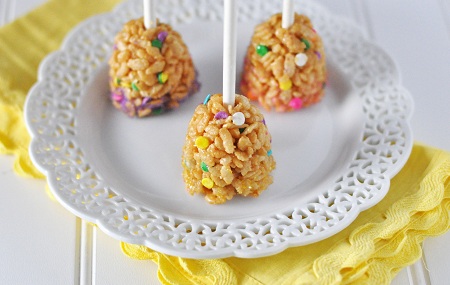 Crispy Treats Easter Pops (makes a minimum of 16)
Ingredients:
1/4 cup natural peanut butter*
1/3 cup honey
2 cups crispy brown rice cereal
A few Tablespoon pastel sprinkles
1 or 2 Wilton brownie pop mold
Baking spray
8-16 round Popsicle sticks
Directions:
1. Combine peanut butter and honey in a medium size bowl, mix and microwave for 30 seconds at 50% power. If the peanut butter is not melted, repeat for another 20 seconds. Mix well.
2. Add brown rice cereal to the peanut butter honey mixutre, 1 to 2 cups at a time and stir to combine until mixture is sticky. Fold in the sprinkles.
3. Spray the brownie pop mold with baking spray and place some of the rice mixture into each well. Press firmly and refridgerate for a minimum of one hour.
4. Remove the crispy treat from the mold carefully by inverting the mold and slowly insert a pop stick. Gently press some of the mixture around the stick to secure it in place.
5. Sprinkle more sprinkles around the base of the pop if you wish. You can now wrap them in cellophane or bag them if you wish.
If you only have 1 mold, you will have to repeat this at least one more time.
*Use any seed or nut butter you wish.
What are your favorite Easter basket treats?