I am caving to the pressure to share this recipe (you know who you are). However, before I give you the recipe I have been obsessed with for 10 years, I will make you 'listen' to this story I call 'Never enough Napkins'
My husband is Portuguese. As in, came over from Portugal with his parents when he was 5 years old. Now, when you eat at his parents house, you eat as if you are training to become a professional eater. I am certain that even if I had never given birth that I would have this additional 15 pounds on my frame simply from not wanting to break his mom's heart when we eat there.
What do I mean by that? I mean, if you don't clear your plate twice, you are in danger of hurting her feelings. So, the first time I met his parents, his mom went all out by making a huge roasted chicken, octopus, a huge salad, boiled potatoes, friend potatoes, kale soup, bacalhau, olives and shrimp Mozambique. I filled my plate and went in for the kill.
Then it happened, I had one shrimp from the bowl of heaven and I was sold. It was so fragrant, vibrant and yes a bit messy (his mom serves with shell on so you need to peel). Soon after eating the first serving, I used the one napkin that was next to my plate. I asked my boyfriend to ask his mom for more (that's correct folks, she only speaks portuguese) napkins. She jumped up and brought over a pile of 20 napkins. The men in the family starting laughing.
His mom was on the verge of tears that some skinny fair-skinned woman was prepping for the second serving and needed to prepare with toweling. We instantly bonded. Ten minutes later I begged my boyfriend to ask her to stop putting more food on my plate.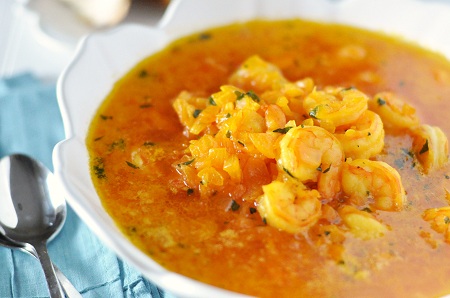 p.s. This is not a reduced fat recipe. I may develop one. Maybe some day.
Shrimp Mozambique Recipe (Serves 4 hungry people when served over rice)
Ingredients:
1 medium or 1/2 a large sweet onion, finely chopped
4 large cloves of garlic, minced
3 Tablespoons fresh parsley, finely chopped
2 packets of Goya Azafran
1/4 cup olive oil
1/2 stick of unsalted butter
1 can of light beer
1 pound of 31-40 shrimp; raw, peeled and cleaned or leave peeled
salt and ground pepper to taste
1-2 teaspoons dried or wet red pepper, optional
Cooked brown rice
Directions:
1. Prepare the onion and place in a small bowl. Prepare the garlic, parsley, azafran (and red pepper if you want some more 'heat') and place all in a separate small bowl and set aside.
2. Melt the butter and oil over medium to medium-high heat in a large pan or wok. Add the onion and cook for 4-5 minutes. Lower the heat to medium and add the ingredients from the second small bowl and cook for 3 minutes.
3. If you wish to remove the shell from the shrimp.
4. Pour the beer into the pan, cover and cook for 4-5 minutes. Add the shrimp, cover and cook for 3 minutes, flip them over/stir and cook another 3 minutes. Pour the contents into a bowl so that you do not overcook the shrimp. Taste and season if necessary.
5. Serve over rice.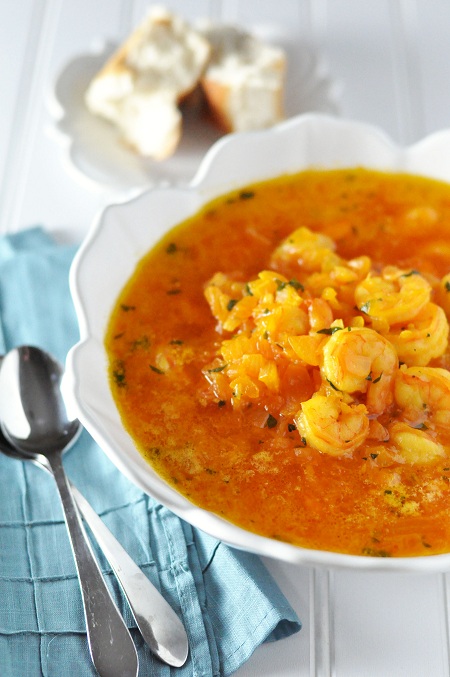 Want more? How about a Shrimp Mozambique Po' Boy!