The kids and I left for a short trip to get Grandma in Maine yesterday afternoon and came home late this afternoon. It is late and I found myself thinking about the cutest, funnest, and the charming moments that I have been lucky to be a part of over the past three days.
Palm Sunday: My daughter just picked out a dress for Easter but thought it would be in her best interest to wear it to Palm Sunday service as well. My husband was excited to dress my son up as well since he had purchased a tie for him a week ago.  Our son looked so cute and I think I saw a teary glimmer in my husband's eyes when he looked at our son looking like a big boy in a tie with coiffed hair.
I am pretty sure I got a cavity just looking at the picture above.
Monday: The impromptu trip to Maine gave me 2 hours to get us ready to go from cleaning the car, to packing, to snacks, to booking a hotel. One of the most important things in a hotel when a road trip is involved is to have an indoor pool.  Kids are little power houses and after being stuck  in a car for 6 hours, they need to swim to their hearts contents.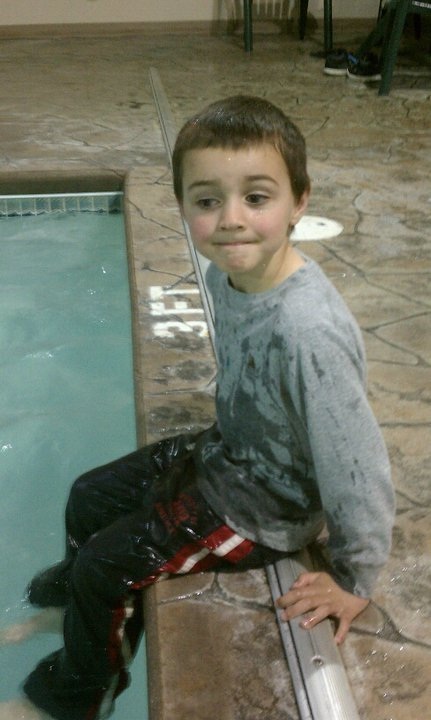 So here is where the fun begins:  My son insisted (a nice way of saying yelling) that he was not going to change into his swimsuit. He was not going to go in the water, he was not going to swim, he will not, would not, could not. I informed him that once his sister and I got into the water, there would be no going back to the room to change. I suggested he wear his swimsuit just in case he changed his mind.
The conversation needed with 'No Mom!' I took a deep breath and decided to relegate this behavior to sleepy road trip and move on with only an eye roll. My daughter and I were in the water for 2 minutes before he walked to the pool edge to say  'I changed my mind, I want to put my bathing suit on'.  I said 'Oh buddy, sorry. Why don't you sit here on the edge and just get your undies and pants wet or come on in with your clothes on?'  I continued to offer a number of suggestions but all were fruitless. I went back to playing.
My son stewed a minute or to and decided to just have fun. Thirty minutes and many splashes later, we went upstairs to be rung out and cuddle in bed.
What are some of your most cherished memories?