I prepared. I planned. I packed. I went. I headed out on Friday to fly to Ontario, California (never even knew it existed) to attend Camp Blogaway in the San Bernardino Mountains.
At one point during the flight, I glanced out my window and was astonished by what I was looking at: the Grand Canyon. Yes, please say it: 'Ohhhh, Awwwww'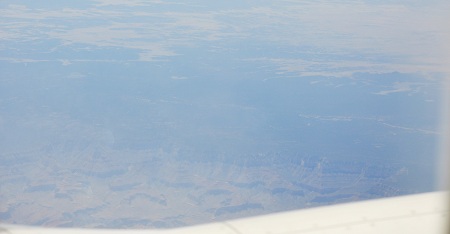 (Look carefully as I am not trying to play a trick. You see the grand canyon right?)
I knew the elevation in the San Bernardino Mountains was about 7,000 and coming from a home base at sea level, I prepped my body by hydrating as much as I could for two days prior. However, after a quick trip up the mountains and rising from 3,000 to 7,000 feet quickly, I was struck with a bit of altitude sickness.  Luckily, I quickly recovered thanks to the endless supply of Fiji Water and a bit of rest.
The meal we were served Friday night stood out as the salad had both watermelon and avocado in it. I was not sure how the flavors would mix with the rest of the salad ingredients but it was wonderful.
Hooray for creative people!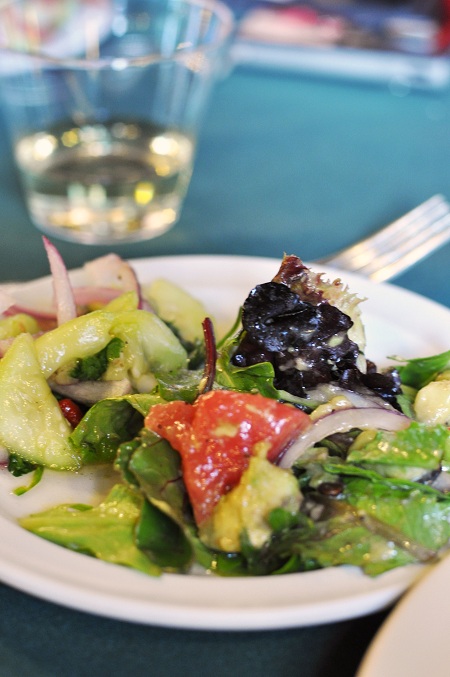 While I drooled and devoured the salad with watermelon and avocado, I remembered how impressed I was the a black bean and banana salad I ate at the Food & Wellness trip with Dole.  I was unsure of how the flavors would meld but the feta was too much for me to ignore so I gave way to my trepidation and dove in. I could not believe how wonderful the flavors were and from then on, I knew I would combine fruit and beans more often.
Give this recipe a try as soon as possible.
Ingredients:
1 can (15 oz.) black beans, drained
2 tablespoons prepared salsa
1 tablespoon chopped fresh cilantro
1 tablespoon finely chopped red onion
1/2 teaspoon grated orange peel
1 tablespoon lime juice
1/4 teaspoon ground cumin
1 ounce feta cheese, crumbled (optional)
1 large DOLE® Banana, sliced
1 Orange, peeled and sliced
Combine beans through cumin in a large bowl, mix well and top with feta, bananas and oranges.
There are more creative recipes on the Dole Facebook page.
Disclosure: Dole has no idea I am writing this. In fact, they will probably never know unless they watch for Google alerts. Maybe they should sign up for Google alerts if they have not yet done so.