The usual twice weekly order was placed this morning between the school drop-offs: 'Grande Iced Latte with 2% please'.  My son scuttled over to his beloved leather chair and stuck his tongue at me a few times while I waited for my liquid joy to be placed in my greedy hands.
As soon as the cup was handed to me, I knew something was wrong. It looked very dark. The lovely young woman who created the concoction for me sensed my confusion and asked what was wrong? I said 'this looks very dark for an iced latte with 2%'. She said 'oh, it has skim milk. hand it back and I will make a new one.'
Once back in her hand, she went to throw it out and I gasped 'oh no, hand it back. No need to throw it out. Let me see if I can make it all right.' I walked over to the fixins station and added a bit of this, a dash of that, stirred, gulped and let out a small 'Ahhh'.
A woman working magic on her own drink was also standing at the fixins station and observing the whole situation looked at me and said: 'Isn't that what life is about? Sometimes you have to make things right.'
We locked eyes knowing we had connected at a deeper level. I smiled at her, said 'Yes it is' and walked off knowing that something special had just happened.
Oprah would be proud.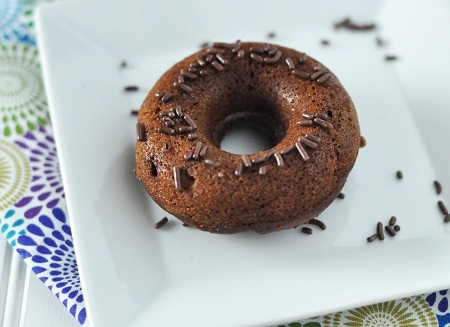 Now, onto the Duffins, or shall we can them Monuts? I wanted to make something fun with the kids to add a little bit of excitement to Meatless May and recalled seeing a donut pan at AC Moore a few weeks ago, so I headed back and made these babies to bring to soccer practice.
I am officially the coolest Soccer Mom.
Chocolate Strawberry Muffin Donut Recipe (yield 18)
Ingredients:
1 quart fresh strawberries, hulled, rinsed and cut into pieces
1 cup whole wheat flour
1 cup unbleached all purpose flour
1/4 cup unsweetened cocoa powder
3/4 teaspoon cinnamon
1 teaspoon baking soda
1/4 teaspoon baking powder
1/4 salt
1/3 cup agave nectar, light
3/4 cup brown sugar
1/4 cup canola oil
1/2 cup applesauce, no sugar added
2 eggs
1/2 teaspoon pure vanilla extract
baking spray
wilton donut pan
Directions:
1. Preheat oven to 350 degrees. Spray a donut tin lightly with baking spray. In a small saucepan, bring strawberries to a boil over medium heat, mashing gently, while they cook for 1 minute. Pour into a bowl to cool.
2. In a medium bowl, whisk together flours, cocoa powder, baking soda, cinnamon, baking powder, and salt; set aside.
3. In a separate bowl, beat nectar, sugar, oil, applesauce, eggs and vanilla until combined.
4. Add dry ingredients to wet and fold to combine. Fold in strawberries.
5. Fill each donut mold 3/4 full with batter and bake for 9 minutes.