There is picking up. There is cleaning your house. There is making your house show-ready and prepared to sell. That is an entire new level of clean.
If you have never had your house on the market, it is a level of clean and organization that is hard to explain. If you have gone through this, you are bobbing your head up and down right now and your face is exuding sympathy.
Therefore, I need the tools to get the job done. I have an arsenal of seven Scotch-Brite bathroom products that I have been using for almost two weeks. See my conclusions below.
The Streak-free Mirror Cloth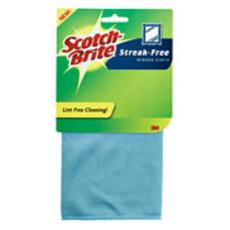 Pros to Mirror Cloth:
*No streaks left on the mirror
*Shines likes nobody business from the windows
*Prefect for the mirrors that are not a good size or shape for my beloved squeegee
*Good size for have plenty of surface to clean with
*Washable and reusable so that is huge
Cons to Mirror Cloth:
*It slips around easily as inner fabric is slippery so twist it around your fingers to avoid the slippage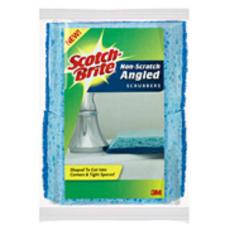 Non-Scratch Angled Scrubbers
Pros:
*Shaped to get into those nasty corners and tight spaces around sinks and faucets that only a tooth brush can ever seem to get into – yippee!
*Two-sided so you can scrub or for gentler wiping.
Cons:
*Since I try to always find one, I would say that it could be a bit easier to use between the back of the fixture and the wall if sponge was a bit shorter in length.
*Wondering why blue coloring runs out when rinsed and squeezed.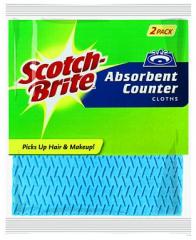 Absorbent Counter Cloths
Pros:
*Reusable by simply running through the dishwasher or by boiling
*Could cut it to a different size if I needed to.
*Substantial thickness so not a chintzy cloth
*I enjoy having a cloth for the counter rather than a sponge so there will never be counter sponge versus toilet sponge confusion (egads!)
Cons:
*Subtle odd smell when removed from packaging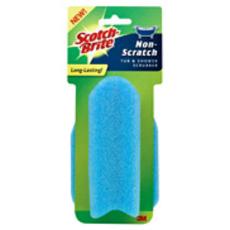 Non-Scratch Tub & Shower Scrubber
Pros:
*If you flip it over and turn it upside-down, it is shaped like a heart. Just mentioning as daughter enjoyed that part.
*Great for on-your-knees scrubbing of the tub
*Great shaped grip (I think the word is ergonomic: I found two options as can sideways grip or the one finger resting in the middle option)
*Curved and shaped into many angles so it can get into just about any shape around the tub.
Cons:
*The material on the handle could seems to be Styrofoam or Styrofoam-like and may start coming apart if soaking wet often however, I am only speculating.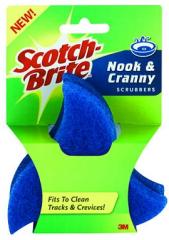 Nook & Cranny Scrubbers
Pros:
*These little buggers get into the nasty, nasty shower door tracks. And they do not mess around. Don't you just hate to get the entire shower stall all clean but there are yuckies in the door track that you can not get?
*Easy to hold
*Also did a great job getting the caulking clean around the sinks.
*I also used it on the patio door track and it did a great job.
Cons:
*Does not note Non-Scratch on the packaging so use extra caution as may scratch fixtures. I used the angled scrubbers for that area. However, the 3M website does say it is non-scratch.**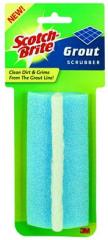 Grout Scrubber
Pros:
*Made my husband smile big time. I know, you never think of scrubbing the grout lines right? If you want the bathroom to look fresh and newer, grab the grout scrubber and get to work as you will feel rewarded for your efforts.
*Ergonomically designed so comfy, even after cleaning a large bathroom floor.
*For all the grout in the bathroom from around the tub, shower and the floor
*light-weight
Cons:
*My husband has a new obsession

Shower & Bath Scrubber
Pros:
*This tool can be darn handy for cleaning the tub and shower in the following situations:
     *You have a shower stall over 6 feet tall
     *You are 5 feet tall or under
     *You have limited upper body mobility or you can not extend your arms upwards.
     *You can not get on your knees to scrub the tub
Cons:
*Personally, I would simply use the Tub & Shower Scrubber however, I do not have any of the situations noted above.
**As with all non-scratch products, test in an inconspicuous area, allow to dry and make sure not scratched up.
Would you like to make your house sparkle as well or at least scatter these about when your mother in law is coming to visit? Yes, great because I am giving away an entire set of these Scotch-Brite Bathroom Products!
To enter, leave a comment here answering this question: Besides finding the time, what is your least favorite cleaning chore?
For additional entries (you need to leave a comment every time)
2. Subscribe to the Savor the Thyme RSS feed (see the orange button at the top right of the page? yes, that one. click it)
3. Tweet about the giveaway: Win an entire set of Scotch-Brite bathroom cleaning products from @savorthethyme http://su.pr/80nJCT ' '
4. Join the 'Savor the Thyme' community on Facebook but be sure to leave a comment there as well stating that you are entering the giveaway.
The giveaway ends Monday, May 24th at 11:59 pm EST. The winner will be chosen by Random.org.
Disclosure: This review was made possible by a campaign with Mom Spark Media and Scotch-Brite. Since I needed to make the house super clean and sparkly, I was provided the products in exchange for the review.