OWWWWwwww! ouch, achy, stiff, soreness. Tears. Dang shots.
Our youngest had a tetanus booster the other day. He screamed. He was sad all day. The his arm was sore at night.
It took quite a while to relax him to sleep. I went downstairs and was cuddling with the best husband in the world (um, my husband, not someone else's) when we heard some whimpering at the top of the stairs.
I said 'What's the matter buddy?' He replied, on the border of yelling, 'When are you going to make me some chocolate chip cookies Ma? and I don't want any fruit or oats or nothin in em'. I said 'I will make you some tomorrow, now off to bed'.
I sat down but quickly realized, I better get to work right then as this boy was going to wake up sore and cranky and looking for cookies. I decided against making my oatmeal cookies as I was afraid of the tetanus wrath so typed  'best chocolate chip cookie recipe' and up popped this recipe from Sweet Savory Life.
I adapted the recipe and finished at late at night. In the morning, I was sort of a Hero.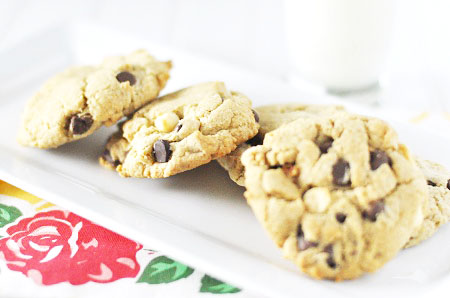 Triple Chocolate Chip Homemade Cookie Recipe
adapted from Sweet Savory Life
Ingredients:
1 cup (2 sticks) salted butter, softened
1/4 cup sugar
2 Tablespoon of truvia (I ran out of sugar so use 1/2 cup sugar otherwise)
1 1/2 cup packed brown sugar
2 eggs
2 tsp. vanilla extract
2 unbleached all-purpose flour
3/4 cups whole wheat flour
3/4 tsp. Kosher or any coarse salt
1 1/2 tsp. baking powder
1 tsp. baking soda
3/4 cup semi-sweet chocolate chips
3/4 cup white chocolate chips
3/4 cup dark chocolate chips
Directions
1. Preheat oven to 350 degrees.
2. Cream butter, sugar, truvia and brown sugar for approximately 3 minutes on medium-high speed until the ingredients are all fluffy.
3. Add the eggs and vanilla and beat for an additional 2 minutes. Add the baking powder, baking soda, salt, and both flours until completely blended.
4. Fold in the chocolate chips.
5. Place about 2 tablespoons of the thick dough onto a parchment lined cookie/baking sheet. Do not flatten the dough. Bake for 16 minutes.
Today is chocolate chip day so get baking. What is your favorite type/flavor of chip?