As with most of us, I am a creature of habit. One habit that I have stuck with this past school year was eating a banana and drinking my iced coffee while driving the kids to school.
I have also been in the habit of thinking this every time I enjoyed the combo.: 'I love the combination of these two flavors and must create recipes utilizing them'.
This dream has now come to fruition! I present to you, the Banana Coffee Bread Recipe with Coffee Glaze.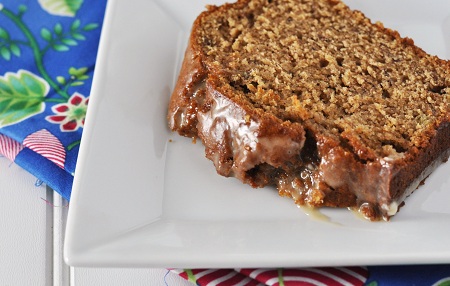 Banana Coffee Bread Recipe with Coffee Glaze
Ingredients:
1 1/2 cups coffee, double strength (or stronger), cooled
3/4 cup packed light brown sugar
1/4 cup canola oil
2 organic eggs
1/2 teaspoon vanilla
2 ripe bananas, mashed
1 1/4 cups whole-wheat pastry flour
1 cup all-purpose flour
1 teaspoon cinnamon
1/2 teaspoon baking soda
1 1/2 teaspoons baking powder
1/2 teaspoon salt
2 cups confectioner's sugar
Directions:
1. Brew one cup of coffee at a minimum of double strength and set aside until cool
2. Preheat the oven to 375°F and spray a 9-by-5-inch loaf pan with baking cooking spray.
3. Mash the bananas. Whisk together the coffee with the brown sugar, oil, eggs, vanilla and bananas in a large bowl.
4. Whisk whole-wheat pastry flour, all-purpose flour cinnamon, baking soda, baking powder, and salt in a separate bowl.
5. Fold the dry ingredients into the wet ingredients and mix until just combined. Transfer the batter to the prepared pan.
6. Bake for approximately 50 to 60 minutes or until the top is light brown and a fork inserted in the middle comes out clean. Be careful not to bake the bread too long or it will be dry.
7. Allow the bread to cool a few minutes before removing from the pan and cooling on a rack.*
8. Once the banana coffee bread is completely cooled, place the confectioner's sugar in a small bowl with a teaspoon of coffee. Mix well and add more coffee until you have the consistency of thick syrup. Pour this glaze over the bread.
*Please note that if you want an even stronger coffee presence, use a basting brush to brush some coffee over the banana bread after you remove it from the pan. Once that has absorbed and the bread if completely cooled, proceed with the glaze.
Take a peek at the photo below. See what happened? I was planning on gingerly brushing the glaze on but my hubby took the more direct approach. And he says I am impatient. Sheesh.