Ugggghhhhh. That is a description of how I felt this weekend and although I have vastly improved as I am able to get out of bed, I am not quite well. I guess you can consider that a PSA for 'value your health'.
Any-who, I have yet to share anything about Blogher Food in Atlanta.  This conference was a fabulous trip in large part, due to my fabu. roomie Diane of Created by Diane. I met her at Camp Blogaway a few weeks prior and we both knew if we were going to Blogher Food we wanted to be roomies and chill together.
The first morning of the conference, just as the sessions started, Diane and I hit the exhibitor hall to meet the brands that invested in the conference and have some time to talk to each of them. Some of our favorite companies included Quaker, Bob's Red Mill, POM, Sharffen Berger, Gourmet Live, Marzetti, OXO, Starbuck's and Bay's English Muffins. Now, what I loved right off about Bay's was this: No preservative english muffins (as in, look in dairy case people) and no junk for ingredients. Who-hoot!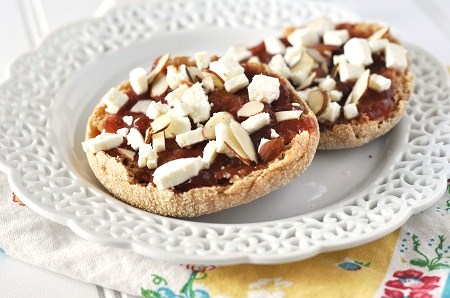 Bay's presented a nom-nommy snack of 'Apricot Brie Bites' that I am rather sure everyone at the conference tried and loved. In fact, there was a constant hum of 'yummmm' in the exhibitor hall. I was instantly inspired and trust me, I have eaten this about a-bazillion times.
Strawberry, Feta & Almond Breakfast English Muffin
1 English Muffin (I used Bay's)
1-1 1/2 Tablespoon quality strawberry jam (the no HFCS variety)
1 oz or lessof feta, crumbled (reduced fat if you can)
A few slivered almonds.
Directions:
Toast the English muffins to your desired crispiness, top with jam, feta, almonds and enjoy every tasty morsel.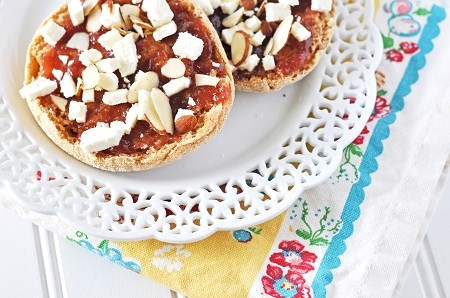 p.s. We also had a great time at the Starkist booth!