Dining with food bloggers can be a real trip as we are an odd bunch. When food is placed in front of us or when we make a recipe, what is the first thing we do?
Dive in to eat? Season with salt & pepper? place our napkin on our laps? Nope, we grab our cameras and prepare to capture the drool-producing edible material in all it's glory. Turn the plate, adjust the light, decide on the best settings for the camera, style the table contents. Click! Click! Click!
Now you may eat. This habit can catch many off guard. Most folk, grab the salt & pepper shakers and dive in but we won't allow it. 'You aren't going to eat that right now are you?' or you may hear 'Stop!' from your food bloggy friend. I was going to say we don't bite, but we might if we don't get our photo opp.
The folks at King Arthur Flourhad to adjust to this. They would innocently go to kneed some bread and the entire room would fill with the sound of shutters and sometimes a request to slow down or perform a do-over.
I did not take the time to write down any measurements on the ingredients below but do not get stressed, just experiment and enjoy.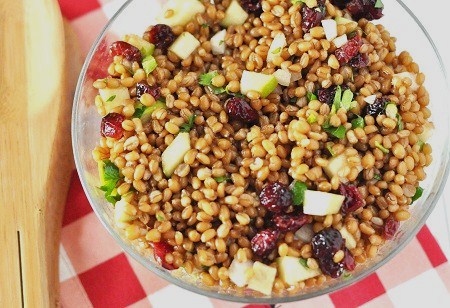 Wheat Berry Apple Salad
Cooked wheat berries
Organic granny smith apple, chopped
Dried cranberries
Scallions or sweet onion, minced
Parsley, chopped
lemon juice
balsamic vinegar
olive oil
Mix all salad ingredients in a bowl and set aside. Whisk the lemon juice, balsamic vinegar and olive oil until well combined. Toss with salad.
What are some of your favorite picnic foods?