My son had his preschool graduation on Friday. I knew it would be an emotional time for me so I decided to have a celebration instead – you know, delay dealing with the feelings, tears and all.
For the party dessert, I decided to top the cake with my favorite type of topping: a real whipped cream topping. The light and fluffy goodness deceives you into thinking it is light and fluffy for your body. To add to this illusion, I tossed some de-li-ci-ous organic berries on top.
Pure Decadent Evil Goodness.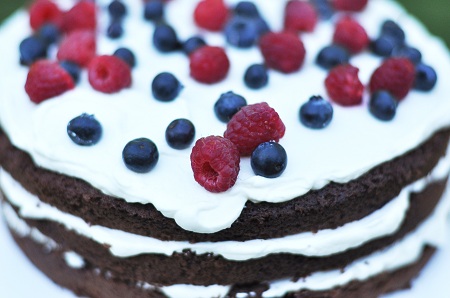 Vanilla Whipped Cream
2 cups heavy cream
1/3 cup super fine sugar (I am sure you can use regular granulated, just lower the amount)
1 teaspoon vanilla extract
Directions:
1. Place the bowl and beater from your electric mixer into the freezer for a minimum of 10 minutes (you can skip this but I feel it helps the cream form a stiff peak faster).
2. Pour the cream, sugar and vanilla into the bowl and beat with an electric mixer on high until stiff peaks form. This should take 3-4 minutes.
3. Spread whipped cream on the cake and top with berries.
For the cake, make your own or use a quality boxed mix. Simply bake two 8-inch rounds. After cooling, cut the two layers lengthwise, resulting in 4 layers. I intended on making a 4-layer cake but the kids and I ate on layer – we were testing the flavor combos with the cream and berries.
Place the bottom layer on the cake stand, top with whipped cream. Repeat once or twice more reserving a bit of extra whipped cream for the top layer. Cover with berries.