I just might pee my pants from laughing to hard. TMI? sorry but I am sitting here reminiscing about a situation that occurred a few weeks back. See, one of my favorite peeps in the world had some dental work and when I say dental work, I mean dental work.
The kind of dental work that causes you to have gauze in your mouth and not eat solids for two weeks – OUCH right?! So, I made her a few soups including a pureed split pea, a tomato cheddar and had a box of black bean from trader joe's that was pretty well pureed as chunks were not her friend at this time.
After dropping off our little boys at preschool, I asked her how she was feeling, does she need more food and which soup did she most enjoy? She said she enjoyed them all but the tomato cheddar was the most interesting. You know when a food is described as 'interesting' that you need to find out more…or walk away and not ask.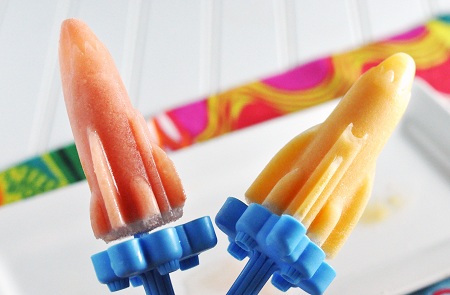 She said although it was a challenge at first, she found a way to enjoy it. I asked her what she meant and she shared that there were some small chunks of cheddar in the soup and since she could not chew, she had to squish them on the roof of her month with her tongue.
AW! we laughed so hard – I felt bad but that all the cheese had not melted but gosh darn it, I did have a good laugh. She is such a good sport and was grateful for the soups – cheddar chunks and all.
I wish I had created this recipe for her a few weeks back as I bet it would have hit the spot. I hope to spend lots of time with her and her family this summer so there will be more opportunities.
Watermelon & Cantaloupe Yogurt Rocket Popsicles
Ingredients 
1.5 cups Watermelon or Cantaloupe, roughly chopped
1 cup low-fat plain organic yogurt (I use Stonyfield)
1 teaspoon stevia
Directions:
1. Prepare the fruit and place it in a blender. Add the stevia (or truvia) and puree until smooth. If you are using regular sugar, you will need to add extra but taste every few teaspoons.
2. Pour the mixture through the sieve or fine mesh strainer. Then add the yogurt to the pureed fruit and mix well.
3. Pour the mixture into the Popsicle molds and freeze for 4 hours or more.  I had enough to make 12 of the rocket pops so you may have extra depending on the size of the molds you use.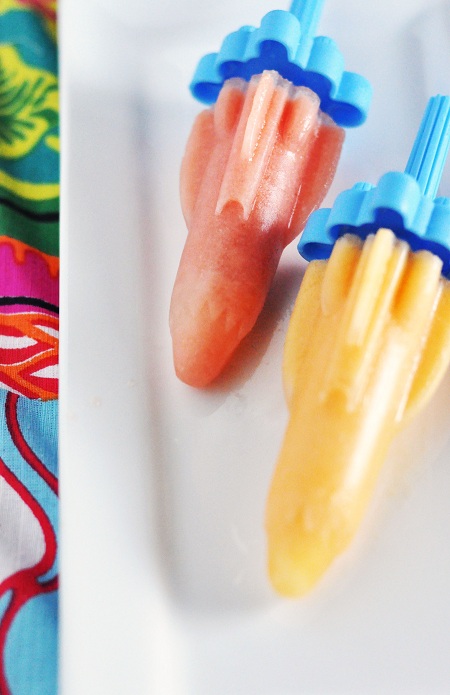 What is your favorite popsicle flavor?