This is a story about how I almost kidnapped a grown-up. The first day I showed up at Camp Blogaway in April, I was sick. Sick as in what altitude sickness does to you sick. However by the early evening, I had pulled myself back together and lucky for me because Joy, as in Joy the Baker, was the speaker.
Joy is funny, charming, talented, sweet and warm. I had an instant girl crush. I planned on rolling her up in her sleeping bag and sneaking her onto my flight home but she woke up early the final day of camp and drove away in her getaway car.
I suspect someone saw the drawing of the 'Taking Joy to Rhode Island' plans and warned her. Therefore, since I can't take her around to meet you all in person, I asked her if she would be the inaugural 'speaker' of a new series titled '10 Things You Didn't Know About Me'.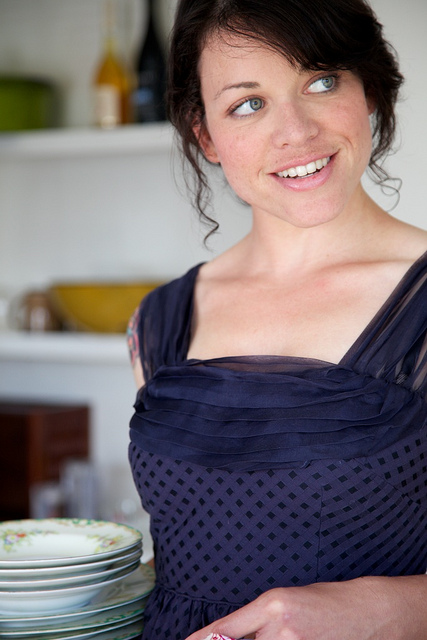 10 Things You Didn't Know About Me by Joy the Baker
1. I was a Girl Scout… for an awkwardly long time.  I sold those dang cookies from the time I was 6 to 16.  Good grief.
2. I live alone, and sometimes I sleep with the light on…. because I'm pretty sure murderers don't murder in the light.
3. I don't like key chains.  I have enough keys on my keychain as it is.
4. When I was a kid, I wanted to be a firefighter when I grew up.  I was really into that shiny truck.  Still am. 
5. I'm waiting for latch-hooking to come back into style.  I'm obsessed.
6. I can play the piano.  Sort of.  More than Chopsticks, less than Beethoven. 
7. I don't like blue ink pens. 
8. I once had a job that required me to be a waitress that danced on counters. No photographic evidence exists. 
9. Maybe I used to collect stamps.  Whatever… no biggie.
10.  Favorite board game:  Clue.  Least favorite board game:  Scrabble.  Don't try to talk me into liking Scrabble.  I'll give you a dirty look.
Love,
Joy
p.s. If you are not completely charmed by Joy, you are nuts. Although I can't help you with your nuttiness, I can suggest you read Joy's 'Meet Joy' page and pretty much her entire blog.
Keep up with the series and the 'Savor the Thyme 'community via Facebook and Twitter.