I am blushing as I begin to type this post. But before, I tell you why, I need to let you know that this is a GREAT way to get your kids to try new cheeses. My kids jumped on this before I could even ruin it by saying 'Try some Gorgonzola Cheese'. They ate it, then asked what it was and then ate more.
Now, back to the 'Situation': You see, I went out to dinner with my friend Janina last week and we had a ahem, um, well let's just say we had a voyeuristic experience.
There was a young man at the table next to us who was a bit infatuated with his meal. When the plate was placed in front of him, he stared at it lovingly, brought the plate to his nose a few times and then managed to drag out eating that plate of food for 30 minutes or so. He had what I call a 'Harry met Sally' experience.
He was in love with his plate of food and I am pretty sure many in the room noticed. And yes, when the waitress came to our table, Janina and I said 'We'll have what he is having'.
What was this object of desire? Amanda's Nachos: house fried chips, bacon, cheddar & blue cheese. I am not a fan of blue cheese and not really of fried chips however, I tried these and thought, I can make these even better.
In fact, I had just made 'Daddy's Fries (baked sliced potatoes) before heading out that night.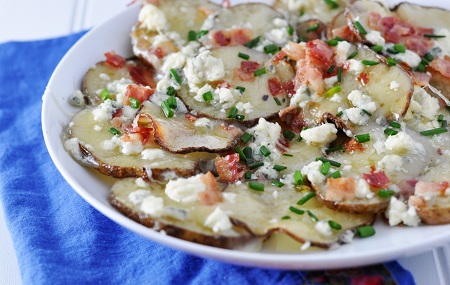 Baked Potato Chip Nachos with Gorgonzola & Bacon (serves 2 very hungry or 4-6 nibblers)*
2 large russet potatoes, sliced 1/8 inch thin
1-2 teaspoons olive oil or use olive oil spray
1-2 ounces Monterey jack cheese, shredded
1-2 ounces gorgonzola cheese, crumbled
3 slices bacon, precooked and chopped
3 chives, minced
1/4 teaspoon salt
1/4 teaspoon ground pepper
Directions:
1. Preheat the oven to 350 degrees. Wash and dry the potatoes.
2. Using a mandolin set to a 1/8 inch, slice the potatoes and place on a clean dish towel or paper towels. Shred the jack cheese and chop up the Gorgonzola if necessary.
3. Toss the potatoes with the olive oil and lay the slices on a cooking rack placed in a baking sheet (allows for better baking). Bake the potatoes about 20 minutes or until starting to brown a bit. Meanwhile, chop up the bacon and set aside.
4. Scatter the jack cheese on the potatoes followed by the Gorgonzola cheese and bacon. Bake another 3-4 minutes, just to melt the cheese. Remove from the oven, top with chives.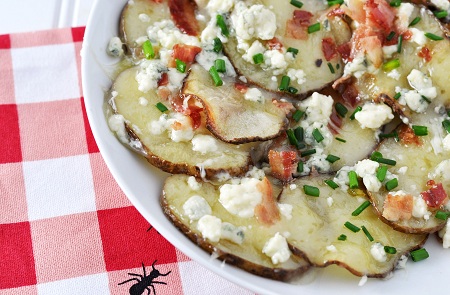 *Warning: you just might moan so make sure you are either alone or with peeps you don't care about moaning in front of. Your choice.