In case you have been getting too much sun and did not notice, we have been out and about exploring around this summer. In the past few weeks, we have been to here and oh yes, here (oh,  that was some tasty) and even here (I must admit, my face painting was a hit!). Many refer to our explorations as Daycations or Staycations as we are exploring local treasures and getting away from it all yet not spending the time on a week long faraway getaway. You with me?
Do you know what all of these events have in common?  Well I will tell you! We brought some of our favorite heat-stable snack bars: The SoyJoy bars and currently our favorite flavor is Pineapple. In fact, I brought one to have by the pool yesterday during the 95 degree heat and tonight the bars are coming with us to 'Shakespeare in the Park'. Fabu!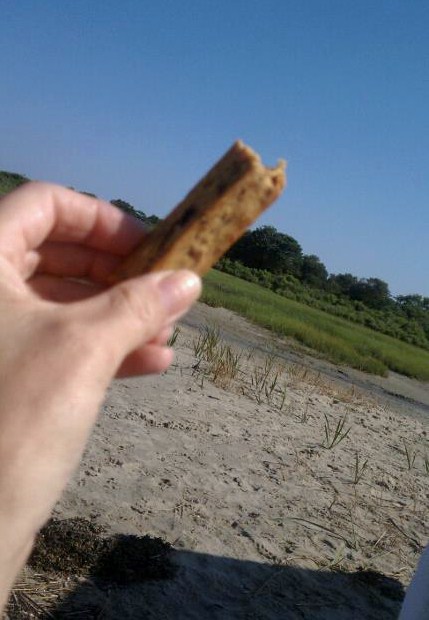 I love SOYJOY bars because they are a nutritions on-the-go snack that I can take it anywhere because it doesn't crumble or melt. Perfect for a summertime daycation!
Would you like the tools to have an amazing Daycation?
Enter to win the following Daycation kit below by answering this questions in a comment on this post: "What are your favorite on-the-go summer snacks?"
For additional entries (you must leave an additional comment on this post for each entry):
*Join my Community on Facebook and leave a comment on the wall that you have entered the giveaway.
*Tweet this giveaway, "Win a $250 summertime daycation kit from @savorthethyme and @soyjoyus http://alturl.com/bvox9
The kit includes:
Digital Camera
Memory card for camera
$50 AmEx Gift Card
Sunblock
Sunglasses
A copy of Lonely Planet's USA Guide
Road trip games
Cooler bag for car trips
SOYJOY backpack
SOYJOY t-shirt
SOYJOY towel
A box of the NEW SOJOY Pineapple
Reusable water bottle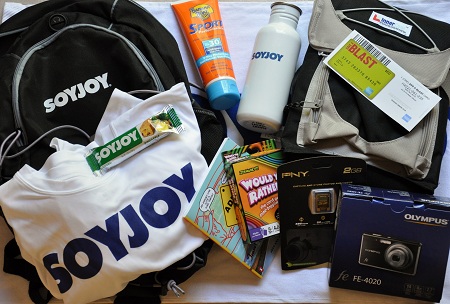 Disclosure: SOYJOY sent us a daycation kit to use while exploring with my family.